Tiger Woods Gives Reporter a Mulligan After a Forgetful Press Conference
Published 12/04/2021, 7:35 AM EST We'll quite definitely be left tongue-tied if one of the best athletes in the world were to give us their undivided attention. So captivated, one might gawk, then fumble and rack their mind to say something- anything- but to no avail. Seems plausible and, well, it actually happened to someone in front of none other than Tiger Woods. Understandable indeed.
A couple of days ago, Tiger Woods made an appearance at a press conference ahead of the Hero World Challenge. In attendance was Golf Digest reporter and writer Dan Rapaport, who asked Tiger Woods a question that made quite the headlines the next day.
ADVERTISEMENT
Article continues below this ad
Rapaport asked the 15-time major champion, who was in a terrible car crash early in the year, "How realistic was amputation as an option?" And in Rapaport's own words, Woods 'stared directly into my soul' and said, "It was definitely on the table." However, Woods' recovery has come a long way since then, and he is on the verge of making another historic comeback.
Watch This Story- From Tony Pollard to Mark Andrews; Best Plays of the Week from NFL Gameweek 12
Reporter's worst nightmare comes true in front of Tiger Woods
After Woods' blatant revelation, Rapaport was either under shock or the jitters were simply coming down on him as he froze. He choked up a few words, "And, my other question is… um… I forgot." A long pause ensued, following which the conference continued. Woods, however, never forgot. He actually gave him another chance, a mulligan, if you will!
ADVERTISEMENT
Article continues below this ad
Before they started over again, Woods confirmed with him whether he remembers it all this time around, which, much to credit, he does. However, when he finally hears the big question, Woods is amused. Rapaport asks, "How much can you bench press right now?"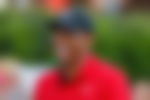 After a little more teasing, Woods answers him and says, "When I first got home and all I could do was bench press, I got to probably 250-255. But now that I'm doing more other stuff, functional stuff, I've gone away from benching."
ADVERTISEMENT
Article continues below this ad
Well, what are your thoughts on this? Is it a situation you can imagine yourself in?