Tiger Woods' Wonderful Gesture Made This Little Fan's Day During Halloween
Published 10/30/2021, 3:20 PM EDT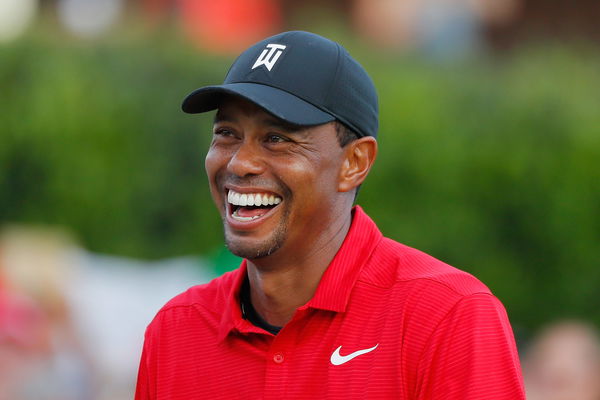 Tiger Woods is one of the best golfers on the PGA Tour. He is also a player who loves to interact with kids and always supports them. And during Halloween, there are plenty of children who dress up like Tiger. Meanwhile, Halloween does not restrict people from dressing up just in scary costumes. So, while celebrating, you might even stumble upon kids adorably dressed as their favorite athletes!
What if you once dressed up as Tiger Woods during Halloween and actually got to meet the man himself? Then it would probably be the best Halloween ever, without a doubt. That's exactly what happened with a little girl during Halloween in 2018. 
ADVERTISEMENT
Article continues below this ad
Little girl dresses up like Tiger Woods and meets the legend himself 
A little girl dressed up as Tiger Woods for Halloween back in 2018. She wore Tiger's trademark Sunday red and black outfit with a Nike cap. However, much to her surprise, she happened to stumble upon Tiger himself! While Tiger was wearing his classic off-the-course outfit topped with a Stanford hat, the little kid was wearing his traditional Sunday outfit! 
Watch This Story: 'Scared to Death' – Players Reveal the Insane Consequences of Winds at PGA Tour's Bermuda Championship
This is probably the luckiest thing that happened to that girl, and she will definitely remember it for the rest of her life. Moreover, GolfTV tweeted this image with a caption that read: "When you dress up as Tiger Woods for Halloween and then bump into Tiger Woods." 
ADVERTISEMENT
Article continues below this ad
Meanwhile, the 15-time major championship winner is currently recovering from a horrific solo car crash that he met with in February 2021. And now, almost seven months later, he still continues to heal. Moreover, even though Tiger has 
ADVERTISEMENT
Article continues below this ad
Woods suffered multiple open fractures and broke his tibia and fibula bones through the skin. But recently, he was seen walking without any support and also attended his son Charlie Woods during a junior golfing event. So, one can hopefully look to see Tiger Woods return to the PGA Tour in a matter of six-seven months.