Twitter Meltdown: Golf World Reacts to Tiger and Charlie Woods' Emotional Bonding at PNC Championship
Published 12/19/2021, 3:05 PM EST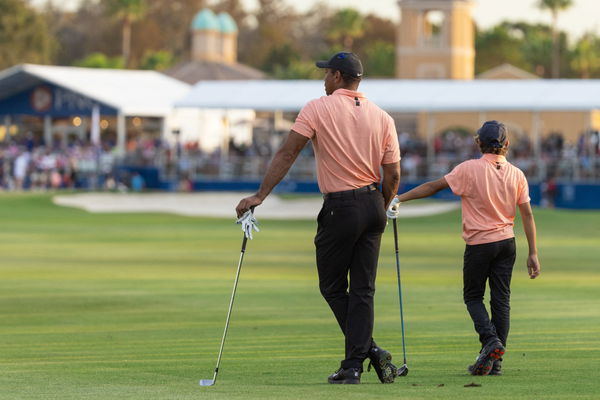 ---
---
Tiger Woods is back at what he does best; stunning the world with his spectacular game. However, as he makes his comeback this time after his solo car crash, someone is steadily stealing his spotlight. And it's the one person Tiger will gladly pass it onto- his son, Charlie.
ADVERTISEMENT
Article continues below this ad
As the duo makes their second appearance at the PNC Championship in Orlando, Florida, the 12-year-old has successfully charmed the world, just like Tiger had, back in the day. Moreover, the golf world couldn't help but notice more than just a few similarities between the mannerisms of the two.
They're father and son, of course, they will share habits. However, in a compilation made of the same, we might as well be looking at two different sizes of the same person! Let's take a look at it-
ADVERTISEMENT
Article continues below this ad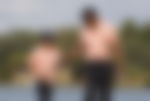 Watch This Story- 5 Potential Match-Ups for Derrick Lewis After His Spectacular Knockout Victory Over Chris Daukaus
Uncanny resemblance between Tiger Woods and Charlie's game
After the duo's maiden appearance at the unique family event last year, the PGA Tour put in circulation a video containing similarities between the two. And this year, the fact has been fortified, as Charlie's game looks better than ever and he continues to win over the world.
If you haven't seen the video already, we'll have you know that the similarities might throw you off a little. And notably, Tiger himself cannot deny this coincidence. A couple of days ago, the video was shown to him to capture his reactions. Delighted and with a permanently etched smile on his face, Woods watched on.
"Two things that stick out. The timing of the twirls and the pickup of the tee." However, in all seriousness, he said, "But he's his own person. That's one of the thing's that we made sure of, that Charlie was Charlie."
Moreover, fans on twitter had a lot to say about this revelation. Here is what some of them said-
This kid is going to be a star in the coming year's. Young Charlie has a very good temperament for the game.

— Darren Tipton Saddlers 🏴󠁧󠁢󠁥󠁮󠁧󠁿 🇪🇺 (@Dazzapass) December 14, 2021
love it. son imitating his father. wouldn't be surprised if the son turns out later to equal or surpass his father!👍☺☺💯

— Cavalry Greek 🇺🇸🇬🇷🇲🇽 (@CavalryGreek) December 18, 2021
What a guy. Its the posture for me, spooky similarities

— Alex Gawthrop (@GawthropAlex) December 14, 2021
Best part of that tournament is all of the fathers and the mannerisms with their kids. Big and Little John Daly is the best.

— Eric Andrew (@Golfguy550) December 15, 2021
Yeah this is so cute especially knowing that the one thing Tiger was worried about with his kids post 2010 is that they wouldn't remember him as a champ.

— Tom Grut (@TomGrut) December 14, 2021
It's like watching yourself have a second Life before your very eyes, that's why men revel in having direct descendants, it's an awesome feeling seeing your young mirror reflection, your bloodine living on is an awesome feeling.

— Thee Olympian (@OlympianThee) December 15, 2021
who says your kids aren't watching you!

— RC Tennessee (@rcunningham321) December 14, 2021
I was smiling with him we all as parents have watched our kids do something just like we do it and it brings a smile to anyone's face💯

— L L Ricc Limited (@ricc_l) December 14, 2021
When Charlie Woods starts his professional career will he have tiger on the bag 🤔

— John Dicko 🔰 (@JDICKO1979) December 18, 2021
ADVERTISEMENT
Article continues below this ad
Stop projecting on the kid and just let him enjoy playing with his dad. Remember how all the hype when Tiger was young brought out all the negative haters.

— frances franklin (@franc548) December 19, 2021
ADVERTISEMENT
Article continues below this ad
Well, this is a fact we can't contest as the similarities stare at in the face. What do you think?