Twitter Reacts to Viral Clip of a Stubborn 102-Year-Old Man's Golf Course Rage
Published 10/27/2021, 6:00 PM EDT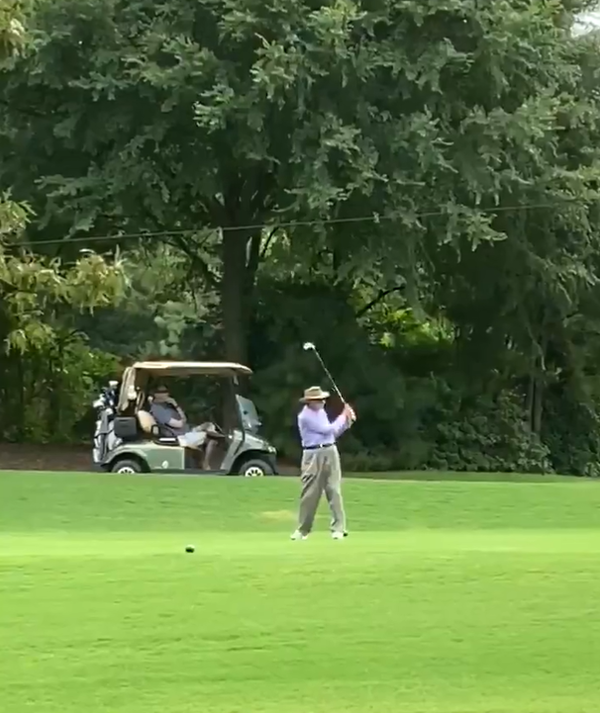 ---
---
When all is going well, you have a plan in your head and a golf shot goes haywire. We've all been through that agonizing feeling of frustration, on yourself and the club that betrayed you. And all we want to do is just scream, throw the club and tear out a piece of the ground for good measure. Well, this 102-year-old did just that. Or, at least, some of that.
ADVERTISEMENT
Article continues below this ad
Steve Elkington, winner of the 1995 PGA Championship, consistently posts clips of his friend and golf practice buddy, Dr. Lemack. The 102-year-old is an exceptional man and the many videos do justice to his spirit. Elkington has shared clips of him at the age of 96, 98, on his 100th birthday, and even working a 3-iron at 101.
ADVERTISEMENT
Article continues below this ad
However, the video he shared to commemorate his 102 years went surprisingly viral. Let's see what all the fuss is about.
Watch This Story- Here's What Happened When a YouTuber Tried Michael Phelps' Impossible 12,000-Calory Diet
102-year-old throws his golf club in a rage
Elkington posted the video and wrote, "Everyone knows golf is hard… Even Dr Lemack at 102 yrs young is still looking for the magic…." The official Twitter account of the PGA Tour recently brought up the hilarious clip again. Watch it for yourself.
y
The video begins with Dr. Lemack making a practice swing. He proceeds to fix his stance for his shot and hits. In a single motion, he strikes, takes the club to the front, and when he sees where the ball went, he lifts it over his head and smashes it to the ground!
Nevertheless, the fact that he can still manage such a beautiful swing at that age is truly fascinating. However, the clip went viral on social media. While some fans found it truly relatable, many cracked jokes at the expense of the athletic man. Let's take a look at some of them.
Probably plays in the first group and slows down the entire days times.

— John Glas (@3daywinereview) October 26, 2021
He did flops Tommy Bolt's rule. While giving your golf club a toss, always throw it in front of you. That way you don't have to do any extra walking.

— Jbay (@jbayzzz) July 1, 2020
"Hi. I'm 102 years old and you're watching Disney Channel."

— Spencer Matheny (@Rec_Neps29) October 27, 2021
Nothing to see here,just a man seeking perfection. Good on him.

I'm just over half his age, I'm already not playing with an full set due to rage issues, guess I'll be down to just my putter by then.

— Pete Graydon (@PeteGraydon) October 26, 2021
He's stubborn probably. Still trying to break 80 but won't take a lesson.

I'll figure this out. Not paying those fees.
Haha 😂

— JohnnyOhio (@JohnnyOhio) October 26, 2021
Love the passion at 102 years old. Hope that is me someday🤣🤣

— Craig Bailey (@beatle60) October 26, 2021
They always say "don't buy a new putter until you've had a chance to throw it first". I assume he uses the same principle for a driver….

— Phil Dodds (@Darlododdsy) October 26, 2021
Setting a bad example to the younger golfers, there'll be 80 and 90 year olds throwing their clubs next.

— River Finn (@RiverFinn3) October 27, 2021
He has earned the honor to throw his club.

— Mike Dirks (@mikedirks) October 27, 2021
ADVERTISEMENT
Article continues below this ad
ADVERTISEMENT
Article continues below this ad
Well, this is one of the most entertaining things we'll see all day. What is your favorite angry golfer moment on course? Let us know in the comments.