'Uncannily Uncanny': Golf World Drools Over Latest Tiger-Charlie Mannerism Video
Published 12/22/2021, 6:29 AM EST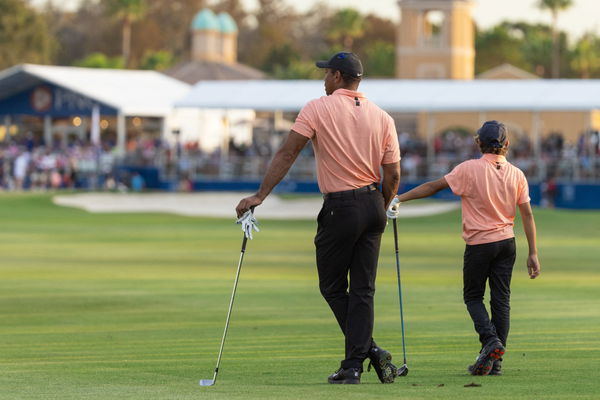 ---
---
The 2021 PNC Championship was a tournament for the ages. Tiger Woods announced that he will return to golf at the event and gave fans what they wanted. He teamed up with his 12-year-old son Charlie and finished solo second in his first event back since the horrific solo car crash in February 2021. 
ADVERTISEMENT
Article continues below this ad
The best part about the PNC Championship is the family bonding that we get to see. Fans don't often get to experience that bit when their favorite golfers are competing at a regular event. But that's where the PNC event begs to differ. 
This year's tournament will be memorable for a lot of reasons. John Daly and John Daly II won the event in a record fashion by going 27-under through two rounds. Furthermore, it was heartening to see Tiger Woods enjoying the moment with his 12YO son Charlie. 
ADVERTISEMENT
Article continues below this ad
PGA Tour releases an amazing Tiger Woods compilation video with his son 
Tiger Woods and his son debuted at the PNC Championship last year and absolutely stole the show. However, they did one better this year and finished second behind the eventual champions, Team Daly. But more than the leaderboard spot, it was the Tiger-Charlie in sync moments, that was an absolute treat to watch. 
There were plenty of moments over the two days, and the PGA Tour recently presented fans with a treat – the tour compiled the best Tiger-Charlie moments and released a video on social media: 
As soon as this video dropped, fans went into a frenzy spotting the identical mannerisms. From the tee shots to putting strokes, 12-year-old Charlie is just a carbon copy of his dad. The best moment of all came when Team Woods' final round ended. Tiger embraced Charlie with a tight hug.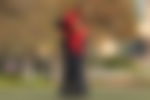 Golf fans react to Team Woods' in sync video
Twitter was thrilled upon watching the PGA Tour's latest video. Of course, watching Tiger Woods play golf is always a different feeling, but to watch him along with his son triumphs all. Here are some of the fan reactions from the Tiger-Charlie video: 
People may feel some way about tiger but from this he appears to be his sons idol and from their interactions, he also appears to be a great father. If you do nothing else in life but be a great father to your kids, I think you're winning. Love to see it.

— D west (@davidloganwest) December 22, 2021
Tons of promise with Charlie. Waiting for son and Dad to be tied going into Amen Corner on Sunday. Ratings like you have never seen.

— Jack Quinnert (@JTQuinnert) December 21, 2021
A fun watch for sure & I can't wait to see how Charlie's game evolves in the years to come. Yes he'll be under the spotlight & maybe that will hinder his obvious potential but no matter what, Tiger will always be his Dad & these memories will last a lifetime for both.

— Kevin Smith (@KevinS1709) December 22, 2021
Love love this.. need to watch again and again.

— ❤️camilacabello_😘 (@karlacamila3397) December 22, 2021
I'm in love with these two! 😍

— GrootWoman Miss Jefe 🇿🇦🇱🇸 (@LKimberly_M) December 22, 2021
As a father to a 12yo boy, this is so awesome!!

— RaiderRich🇺🇸 (@RichCanales) December 22, 2021
ADVERTISEMENT
Article continues below this ad
ADVERTISEMENT
Article continues below this ad