WATCH: Dustin Johnson, Bryson DeChambeau, and Others Crack Jokes at The 2021 Players Championship
Published 03/16/2021, 12:41 PM EDT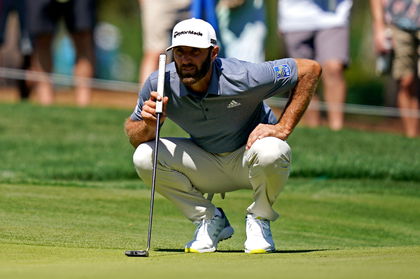 ---
---
Golf might be an intense sport, but the players on the PGA Tour always find time to crack jokes in between. Speaking of jokes, the competitors at The 2021 Players Championship engaged in a secret mission during press-conferences and the end result was published on YouTube. Curious much? Scroll down to know more! 
ADVERTISEMENT
Article continues below this ad
The 2021 Players Championship was hosted at the prestigious TPC Sawgrass layout just like any other year and saw Justin Thomas secure victory through a dramatic finish in Round 4. The action was breathtaking, but something jovial was taking place in front of the cameras as well! 
TV show host Jimmy Fallon has this tradition of making sports personalities utter irrelevant phrases during their press conferences. He has created it as a separate segment on his show and it's called 'Drop It In!' 
ADVERTISEMENT
Article continues below this ad
PGA Tour stars including Bryson DeChambeau and Dustin Johnson Had Fun at The 2021 Players Championship
As much as The Players Championship is considered as a 'fifth major,' it doesn't stop the PGA Tour professionals from having fun at the tournament. In fact, Jimmy Fallon has been doing this segment with tour pros for a few years now. 
Here's how it works: These players are asked to utter a random phrase that should be added to one of their replies during an official press conference. Some of the lines from this year were just hilarious!
The humor element is triggered when these PGA tour guys add the given sentence when talking about something serious. Here's what some of them said in 2021 as part of the 'Drop It In' segment:
Jon Rahm: Simple Truth is, we have the meats. 
Dustin Johnson: I've never been known to skip on the dip. 
Bryson DeChambeau: I love putting. I'm a put, put, nut, nut. 
Patrick Cantlay: I'm just a corndog living a hot dog life
Xander Schauffele: Sweet Sassy Mollassy 
ADVERTISEMENT
Article continues below this ad
As mentioned before, this isn't the first time Jimmy Fallon is having fun with professional golfers in his segment. The same segment was created at the 2020 as well as the 2019 Players Championship events. 
Click on the video to check out how the golfers enacted their lines this year. The fun part about all this is that nobody knew about the pre-planned segment except the golfers and Fallon's crew! 
ADVERTISEMENT
Article continues below this ad
Read Also: Tiger Woods and Michael Jordan Friendship: Why Woods Was Advised Against Befriending Michael Jordan