WATCH: Hilarious Footage of NBA Legend Shaquille O'Neal Sinking a Free Throw On the Golf Course
Published 06/16/2022, 8:30 PM EDT Sports entities try different sports from time to time to keep themselves active. But have you seen professionals mixing two sports to make a fun event? Such an event happened during a Pro-Am event back in 2015, and none other than the NBA star Shaquille O'Neal won it!
Celebrities and other sports entities show off their golfing ability in a Pro-Am. However, O'Neal had a different plan.
ADVERTISEMENT
Article continues below this ad
He is infamous for not having good free-throw skills. And he proved the world wrong by free-throwing the golf ball into the hole. Retired as the center of the Boston Celtics, O'Neal showcased his free throw skills at the 2015 Greenbrier Classic Pro-Am.
In the PGA Tour video, the viewers can clearly see that none of the others could make the ball to the hole. However, The Big Shamrock didn't need much time to do it. Interestingly, NBA's former star player was as excited like the viewers about making the hole. He even did a victory lap to celebrate it.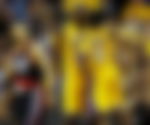 "God doesn't gift with both hands," O'Neal once said, addressing his flaw in free throwing in NBA matches. Finally, it seemed like he mastered the technique; for a different sport.
Shaquille O'Neal at the 2015 Greenbrier Classic Pro-Am
The 2015 Greenbrier Classic was a group event with four players on the team. And Shaq was in a team with the Greenbrier Resort owner Jim Justice, his son Jay, and the PGA Tour professional Keegan Bradley. 
Although the team had the 2011 PGA Championship winner in it, viewers' focus was on the former NBA star. However, it is safe to say that, other than his free throw winning, he got the attention of the spectators for the wrong reason. 
ADVERTISEMENT
Article continues below this ad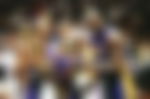 He needed three swings to get off from the first tee on Wednesday! Yes, you heard it right! Shaq's first swing nearly caused him to fall, making his teammates announce it was a practice swing. 
However, he whiffed the second swing, keeping his balance this time. "You killed that one," Hall of Famer and the team's caddie Lee Trevino said after Shaq made contact with his third swing. "Unfortunately, you lie 3!" Trevino jokingly said. 
ADVERTISEMENT
Article continues below this ad
O'Neal was a 15-time All star winner during his time in the NBA. He even was the league's MVP once. However, he still lacked a skill – free throwing. And it seems that the NBA star has mastered the skill after all.
Watch This Story: Fans React as Tiger Woods unveils His New Golf Course Design