WATCH: Seonghyeon Kim Faced the Most Unfortunate Putting Woe at the CJ Cup 2021
Published 10/18/2021, 12:54 PM EDT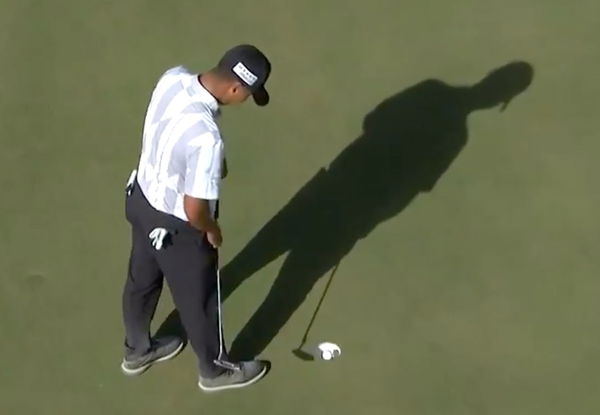 ---
---
We've seen our share of impossible putts. From Phil Mickelson's legendary putt at the 2004 Masters to Tiger Woods' crucial putt en route to his 14th major. However, a most recent one by Seonghyeon Kim bewildered us beyond comprehension. Furthermore, the decision that passed after that.
ADVERTISEMENT
Article continues below this ad
The CJ Cup recently concluded at the Summit Club, wrapping up the Vegas swing of the tour. Originally held in Jeju Islands in South Korea, the pandemic travel restrictions forced the organizers to shift to the US.
ADVERTISEMENT
Article continues below this ad
Seonghyeon Kim is a South Korean professional golfer who plays on the Japan golf tour. A surprise winner at the 2020 KPGA championship, this win gave him entry into the Korean tour for five years. In 2021, the 23-year-old had a great year and notched his first Japan Tour title with a win at the Japan PGA Championship. This win, the highlight of his career, made him the first qualifier for the 2021 CJ Cup.
Watch This Story- NFL Gameweek Five; Top Five Plays of the Week!
Seonghyeon Kim holes a head-spinning putt
Kim's fourth round was going well, and was 3-under 69 when he approached the last hole. Finally, on the par 5 18th hole, he set himself with a 3 foot birdie putt, which would take him to a fabulous under-68. He took the putt, and everyone watched with anticipation as the ball rolled towards the hole.
Most dramatically, the ball rolled around the hole, took an entire circle, and then stopped. Everyone paused and waited for movement from the overhanging ball. Time passed, Kim held his head in his hand and moved to the other side, no doubt praying for a miracle.
ADVERTISEMENT
Article continues below this ad
However, with a smile, he accepted his poor luck and moved to tip the ball, when suddenly, the ball dropped in! Kim threw his hands in the air and looked at the crowd to see if everyone had witnessed what had happened. Unfortunately, however, his happiness was short-lived. In accordance with rule 13.3a, the officials assessed a one-stroke penalty to Kim.
13.3a states the rules for when "reasonable amount of time to reach the hole plus 10 seconds," has expired in case of an overhanging ball. It says, "If the ball then falls into the hole before it is played, the player has holed out with the previous stroke, but gets one penalty stroke added to the score for the hole."
ADVERTISEMENT
Article continues below this ad
Hence, a penalty stroke was added to Kim's tally, and he finished his second CJ Cup with an impressive T-32 at 16-under. What do you think of the rule?