WATCH: Tiger Woods Once Left Phil Mickelson Speechless With His Trash Talk
Published 12/12/2021, 6:30 PM EST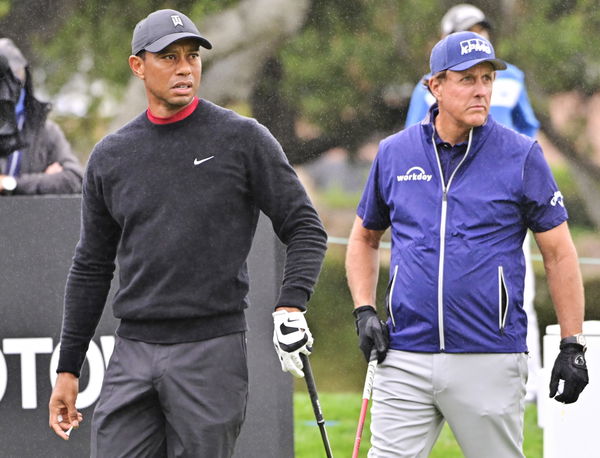 ---
---
If one rewinds to a couple of years ago, Tiger Woods and Phil Mickelson are bitter rivals instead of two PGA Tour greats who share an amicable friendship. What started off as a sharp rivalry mellowed out over the years, the two even exchanging fun trash talk on certain occasions. One of these fun incidents took place at The Match Part II, where Mickelson and Tom Brady faced Woods and Peyton Manning.
ADVERTISEMENT
Article continues below this ad
This event was an interesting matchup between the two, both playing for charity. Their pair was enough to draw attention, Brady, and Manning bringing along a whole new set of viewers.
Of course, Woods could not let this go without some trash talk.
ADVERTISEMENT
Article continues below this ad
What did Tiger Woods say to Phil Mickelson?
To anyone following Mickelson, it is clear the golfer is excellent at trash talk. His wit is commendable, always making sure he was one step ahead of everyone.
However, as Mickelson told Woods to mark his ball before making his shot while on the fifth hole, Woods seemed to have an amazing reply up his sleeve. "Do you want me to use one of my U.S. Open medals?" Woods said, which even made Charles Barkley chuckle.
Mickelson seemed to handle the situation well, asking Woods if he had any, offering up the silver ones he has. Woods could only laugh in response, seated comfortably in his golf cart.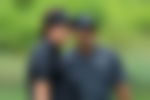 Fans reaction
ADVERTISEMENT
Article continues below this ad
Fans had fun with the clip shared with them, many praising Woods and calling him the GOAT. "Tiger is a SAVAGE," wrote one fan. Some spoke about Mickelson, and how he will probably never win a US Open during his career. Many were just happy to have seen the match, enjoying the trash talk shared by the two.
Now, while Mickelson did not win the US Open, he did win the PGA Championship, becoming the oldest on tour to do so. This season, the 45-time PGA winner has played only the Fortinet Championship, finishing T36. Otherwise, he has been quite active on the Champions Tour, winning three out of the four events he played.
ADVERTISEMENT
Article continues below this ad
Woods, on the other hand, is returning to the course after months at the 2021 PNC Championship at the Ritz-Carlton Golf Club Orlando, Grande Lakes. He will be playing with his son Charlie, something which was already being hinted at.