Watch: Video Clip of an Orangutan Casually Driving a Golf Cart Is Going Viral
Published 01/01/2022, 7:10 AM EST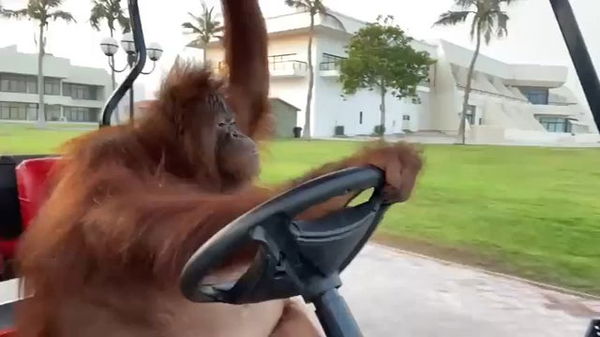 ---
---
Golf carts are one of the easiest vehicles to drive on. But just like riding a bicycle, not everyone can drive around one. Other than on golf courses, people use them to move around the neighborhood or a gated community.
ADVERTISEMENT
Article continues below this ad
Gated communities can be a lot of things, right? A zoo, for example. While a zookeeper driving around in a golf cart is an everyday view at any Zoo, an Orangutan driving one is not something you see everywhere.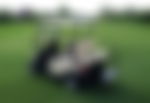 ADVERTISEMENT
Article continues below this ad
Watch This Story: A Mob of Kangaroos Hilariously Invade an Australian Golf Course
A YouTube video of an orangutan driving a golf cart in a zoo is getting viral over the internet. Although the video isn't the latest, many YouTube channels decided to revisit it for one more time.
Orangutan chilling in the golf cart
Throughout the reign of YouTube, we have seen many animals do the impossible things around. An orangutan driving a golf cart should be counted in such a category. But what makes this orangutan different from other animals?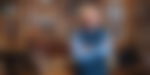 The chilling vibes that the animal is giving off are something that you cannot ignore. He is riding the cart while holding one hand on the top rail.
The orangutan also makes eye contact with the videographer many times in the video. But he just ignores the videographer as if saying, "It's my everyday life!"
With the wind in his hair, the orangutan radiates a "cool guy" vibe throughout the video.
Tiger wants a cart ride with the orangutan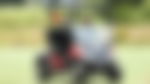 ADVERTISEMENT
Article continues below this ad
No, not Tiger Woods, but an actual tiger wanted a ride in the golf cart! While the orangutan is driving, many animals can be seen in the background, inside their cage. Although everybody else chose not to mind him driving a cart, the tiger chose a different approach.
When the orangutan reached his area, the tiger couldn't help but walk towards him. But the funny thing is that the orangutan just looking over him as if saying, "sorry bro, not today."
ADVERTISEMENT
Article continues below this ad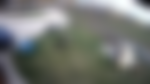 Driving a golf cart is not a difficult task. Yet, one needs proper training to drive one with such ease. However, the orangutan seemed like a professional golf cart driver. This means either his trainer is great at his job or the orangutan is highly intelligent.