WATCH: When Tiger Woods Left Phil Mickelson Baffled With His Strong Trash Talk
Published 07/23/2022, 9:28 AM EDT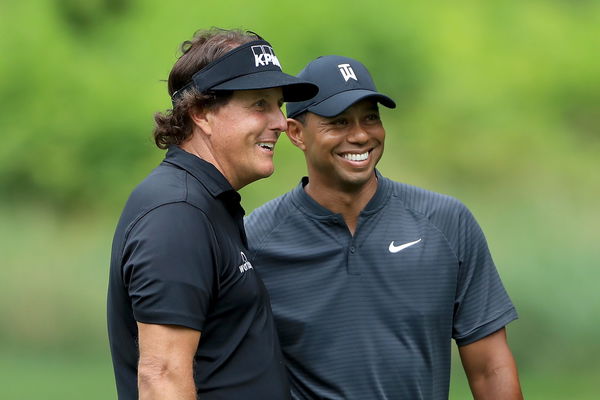 Over the years, the rivalry between Phil Mickelson and Tiger Woods has provided us with several memorable moments. Throughout their peak playing years, the two have been fierce rivals. However, in recent years, their antagonism has evolved into a brotherhood. Today we look back when a Tiger Woods comeback comment, left Phil Mickelson speechless during the press conference of "The Match."
ADVERTISEMENT
Article continues below this ad
ADVERTISEMENT
Article continues below this ad
Tiger Woods and Phil Mickelson competed in a head-to-head golf matchplay competition in 2019. The unofficial PGA Tour competition included a $9 million winner's purse. The Shadow Creek Golf Course in Las Vegas, Nevada, served as the venue for the event.
To raise the stakes, both golfers made a number of side bets prior to the match, with Mickelson placing a $100k bet on himself making a birdie on the opening hole. However, much to Lefty's surprise, Woods decided to double the wager during their press conference. Let's see who came out with the winning slips.
Tiger Woods doubles the wager
Woods is known to be a silent killer by many of his fellow golfers on the PGA Tour. The 15-time Major champion has proved time and again why it's not easy to bet against him. During the press conference of "The Match", both golfers decided to go all in with their side bets.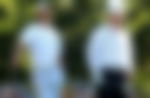 A confident Mickelson said, "$100,000 that says I birdie the first hole. So, so that's how good I feel heading into this match." The media personnel and crowd in the background react to the amount with a shocking cheer. Lefty then gives Woods a warning by saying, "You don't have to take it."
However, Tiger Woods then shocks everyone by doubling the bet. He said, "So you think you can make birdie on the first hole?" Mickelson replies by saying, "I know I'm gonna make birdie on the first hole", to which Woods responds, "Double it". The instant reply from the 46-year-old left Mickelson baffled.
Nonetheless, the side bet was made official with mutual understanding. But did the 6-time Major Champion manage to make a birdie in the first hole?
Who won the 200k wager?
With the bet being doubled by Woods, there was high anticipation from fans as to who would win the first side bet of the game. When the game began, Phil Mickelson was only 9 feet shy of making a birdie on his opening hole, which would have won the opening bet.
ADVERTISEMENT
Article continues below this ad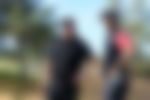 However, a poorly timed shot cost him the chance to cash in on his rapid 6-figure wager. Woods was captured on camera exclaiming, "That hurts the pocket," as soon as the shot missed the hole. Additionally, after winning the wager, the 15-time Major champion could not conceal his joy.
Despite losing the first bet, Mickelson went on to win the rest of the side bets. Moreover, he came out as a victor in "The Match", defeating Woods with a birdie on the 22nd hole.
ADVERTISEMENT
Article continues below this ad
Who would you love to see in next year's "The Match"?
Watch This Story: Tiger Woods Drop Harsh Reality Check Amid Sensational Comeback