When Former POTUS Donald Trump Surprised Rory McIlroy With His Gesture After an Infamous Meltdown: 'Rory, I Didn't Want You to…'
Published 11/24/2022, 1:30 PM EST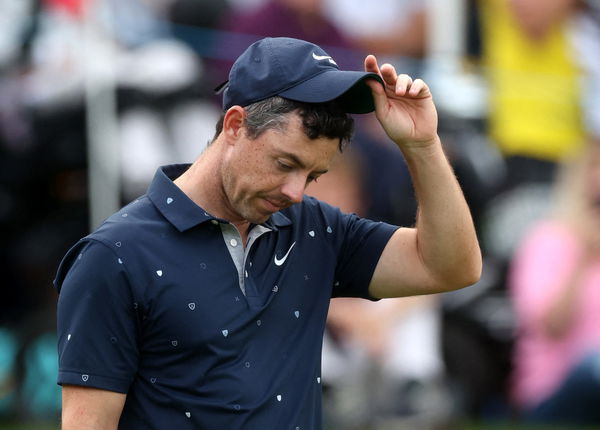 Golf may be considered a peaceful sport. However, it can also bring out frustration in a person after a poor shot. Throwback to the 2015 WGC Cadillac Championship, when Rory McIlroy let his anger get the better of him and threw away this 3 iron into the lake. However, the former POTUS, Donald Trump, sent out a scuba diver to make sure the golfer receives his driver back.
ADVERTISEMENT
Article continues below this ad
Though, Trump's golf clubs around the world may currently be the host of LIV Golf tournaments, for many decades they've hosted the PGA Tour events. Back in 2015, the Trump National Doral, Miami was the host of the World Golf Championship.
ADVERTISEMENT
Article continues below this ad
The Business tycoon is usually in attendance when professional events are hosted at his golf clubs. And understandably, he was a spectator when McIlroy threw away his 3-iron in 2015.
Donald Trump gives back Rory McIlroy his 3-iron
During the second round of the tournament, McIlroy had a frustrating 8th hole. Following a poor shot, the world number one decided to throw away his iron into the lake in the Blue Monster in Miami. "I mean, look, I just let frustration get the better of me", said Rory after the round.
The next day, McIlroy continued his tournament, however, with only 13 clubs in his bag. Nonetheless, Trump being the owner of the golf club, decided to send a scuba diver to retrieve Rory's 3-iron. Once the diver managed to bring back the golf club, the Former POTUS decided to hand back the 3 iron to the golfer by himself.
ADVERTISEMENT
Article continues below this ad
"Rory, I didn't want you to play with 13 clubs again," Trump said as he handed over the iron. "Thirteen is an unlucky number". The handoff made McIlroy chuckle, as he thanked Trump for his efforts.  The 33-year-old put the club in his bag right away. However, he decided to return it to Trump after the game since he indicated there were two possibilities for the club's future.
"We could auction it off to charity or we could put it in a trophy case here at Doral," Trump said. "I give a lot of money to charity so I think we'll have the club mounted and placed in the clubhouse somewhere." The whereabouts of the Club remain publicly undisclosed. However, Trump must have struck his promise and sold the golf club for a charitable cause.
What are your thoughts on Donald Trump bringing back McIlroy's three iron? Let us know in the comments section below.
ADVERTISEMENT
Article continues below this ad
Read More: How a Simple Golf Ball Change Helped Rory McIlroy Pocket $18 Million