Where Is the BMW Championship 2021 Played? Caves Valley Golf Club Location, Yardage, and Major Details
Published 08/24/2021, 6:00 PM EDT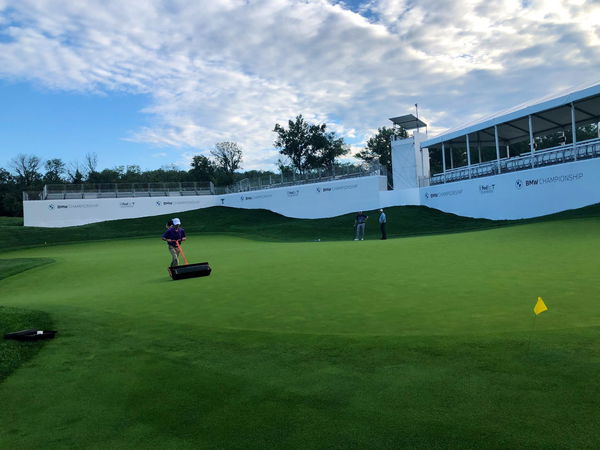 ---
---
After 59 long years, the PGA Tour will return to Baltimore with the BMW Championship in August at the Caves Valley Golf Club. For five years, the chairman Steve Fader of the club was trying to get the action back in Baltimore, finally succeeding this year with the FedExCup playoffs. The event will get 100,000 visitors to the golf club, and the event will be the final leg on the FedExCup playoffs before the decisive Tour Championship.
ADVERTISEMENT
Article continues below this ad
"To have the 70 best in the world here, and they all want to be here and they're all grinding to get here, it's terribly exciting," Fader said, adding that everyone playing at the home course is tremendous for them. Last season, the BMW Championship was held without fans due to the COVID-19 pandemic.
ADVERTISEMENT
Article continues below this ad
What challenges can one face at the Caves Valley Golf Club?
Offering a fantastic view, the Caves Valley Golf Club is challenging for a golfer of every kind. The greens are well kept and offer a challenge while being relatively easy most times. The water hazards are another highlight of the course.
Particularly demanding holes at the Caves Valley Golf Club
Right at the start, Hole 1 is more challenging than it looks. With bunkers and elevated greens, accuracy will end up deciding how well a player performs. We have Hole 3 up next, which can give golfers an early birdie opportunity. The shorter Hole 4 can be 'intimidating' for golfers, as per Caves Valley's website. The 600-yard Hole 7 is probably the toughest par-5 hole on the course, so one needs to start accurately, especially as hole locations make it tough.
ADVERTISEMENT
Article continues below this ad
While Hole 9 may not be as serious, one needs to find the fairway from the tee if they are hoping for a birdie. Hole 10 follows suit, accuracy is important if one wants to perform well. With elevated greens, Hole 12 can also be a problem for some who might misjudge due to the way it is made.
Hole 13 is again described as daunting, another challenging par-5 on the course.
Let's take a look at the complete yardage.
ADVERTISEMENT
Article continues below this ad
Complete yardage of the Caves Valley Golf Club's; the host of 2021 BMW Championship tournament