While Hailing Rihanna, Tiger Woods' Niece Cheyenne Once Took a Dig at Drake When Revealing Her Dream Foursome: 'I Lost Respect…'
Published 11/13/2022, 11:52 AM EST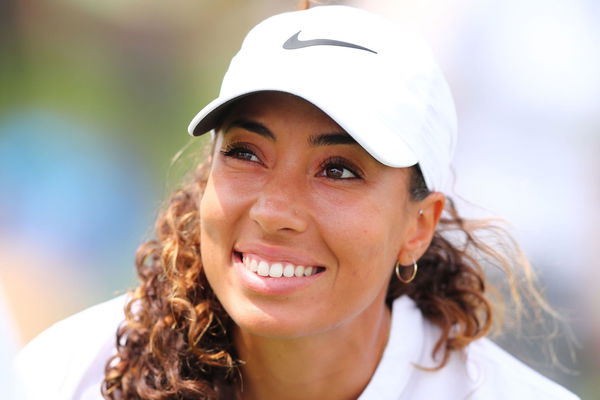 Playing golf with your friends is always a fun experience. However, playing the sport with your favorite music artists would make the experience much more joyful. Cheyenne Woods, who happens to be the niece of legendary golfer, Tiger Woods, once shared her dream foursome of rap artists. While naming her group of rappers, she also happens to take a jab at the Canadian rapper, Drake.
Though her professional golf career may not be as sparkling as her uncle, Cheyenne Woods has still managed to gather enough amount of following for herself. Four years ago, she was invited to NBC Sports' podcast, Beyond the Fairway.
ADVERTISEMENT
Article continues below this ad
In the podcast, the hosts have the tradition of asking the guest's their favorite rap foursome. In golf terms, Foursomes refer to a pair of golfers forming a team and playing a single ball between them. Cheyenne then revealed her choice of rappers whom she would like to play a round of golf with.
Who are in Cheyenne Woods' dream foursome?
As the interviewer asked Woods' niece about her dream foursome, Cheyenne began thinking about whom she would prefer. She started by mentioning Snoop Dog as her first preference. The 32-year-old then reasoned it by saying, "I'm thinking of people who would be fun and interesting to play with". She also adds her love for rap music regardless of who the artist is.
 

View this post on Instagram

 
Cheyenne then included Kanye West (now known as Ye), in her dream foursome. She stated that "he would be interesting to talk to" but also feels worried as she adds "Good or bad, it could go either way". The LGPA star then added Brooklyn-based rapper, Jay Z, as she hoped he would bring his wife, Beyonce with him.
Read More: Tiger Woods Shares a Striking Similarity With Half Niece Cheyenne
"I'll probably throw Jay-Z in there, coz he might bring Beyonce", said Cheyenne Woods. For her final pick, she avoids adding further rappers and adds hip-hop artist Rihanna. However, when the hosts ask her about including Drake in her list of foursomes, Cheyenne rejected it.
Cheyenne throws shade at Drake
Years before Drake's collaboration with Nike to create a golf clothing line in 2021, the Canadian rapper posed for a picture in golf apparel, having gloves on both hands. Since it's a popular phenomenon for golfers to have glove only on the less dominant hand, the rapper faced a little backlash for the pose.
 

View this post on Instagram

 
ADVERTISEMENT
Article continues below this ad
When speaking about including Drake in Cheyenne's list of foursome, Woods revealed that the photo of gloves on both hands resulted in Drake being counted out. "Ever since he tried to pose that picture of him playing golf with two gloves, two baseball gloves on. I think I lost respect for his golf ability", said Cheyenne.
Nonetheless, the rapper has a new clothing line in the sport named NOCTA. Hopefully, that has resulted in improvement in Drake's knowledge and love for the sport, and could possibly be included in Cheyenne's new list of dream rap Foursome.
What do you think of Cheyenne's dream foursome? Share your thoughts in the comments section below.
ADVERTISEMENT
Article continues below this ad
Watch This Story: Tiger Woods and Michael Jordan's first-ever Nike contracts make a shocking million-dollar revelation in favor of the legendary golfer
Edited By: Manaal Siddiqui