Tiger Woods' Shoes at the 2022 PGA Championship: Model, Price, Specifications, and Other Details
Published 05/19/2022, 9:30 PM EDT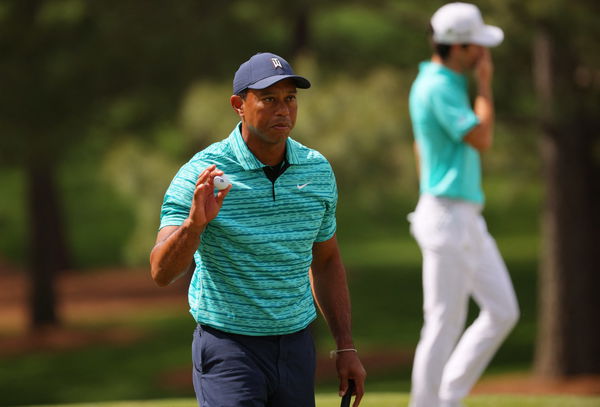 A player like Tiger Woods never takes his golf game lightly. Hence, it should not come as a surprise that he even takes his footwear seriously. A Nike loyal for years, now, it looks like his choice of shoe has changed. At the 2022 Masters Tiger grabbed a lot of attention as he was spotted wearing FootJoy's Premiere Series Packard shoes.
Woods was reported expressing that the 2022 Masters was an "unbelievable feeling". This is because he did not play competitive golf for almost 17 months before playing at the Masters.
ADVERTISEMENT
Article continues below this ad
A little unusual to see Tiger Woods wearing FootJoy?
It is shocking to see Woods, who has been a Nike athlete for almost 25 years, now wear Footjoy shoes. As per golfmonthly.com, he was seen wearing a black pair on Sunday at the Masters and a white pair on Monday and Tuesday. He had been wearing the Nike Air Zoom Tiger Woods golf shoes for quite some time now before he switched to Footjoy which came as a shock to many.
It can be a possibility that because he had suffered foot and ankle injuries in a car accident in February 2021, he might have felt the need to make the change. Although it's hard to tell why he made the change to Footjoy, the shoes are giving him a high performance on the course.
ADVERTISEMENT
Article continues below this ad
All you need to know about the shoes
As per golfmonthly.com the shoes that Woods is currently wearing provide a firmer feel, yet are soft enough to cushion the feet as you walk. It's all because of the Ortholite EcoPlush FitBed. The cleats and VersaTrax+ pattern provide stability and grip as well. The interesting fact about the shoes is that it's named after the founder of Footjoy Frederick Packard.
The shoe has art-conscious with pebble grain leather and calfskin croc print accent in the saddle area. The shoe comes in several colors and styles, but the all black and all white are Tigers' go-to choices.
ADVERTISEMENT
Article continues below this ad
Woods who is a 15-time major winner is all set for the 2022 PGA Championship as he has been reported as feeling at the top of his game and health. Do you think he can bag a win and mark his comeback to the tour in style?
Watch this story: Michael Jordan Vs Mike Tyson Net Worth Comparison
Edited By: Melroy Fernandes