'I'd Pick Daly Over My Own Family': Netizens Pick the 'Wild Thing' John Daly Over Hollywood Star Tom Cruise To Watch Much-Anticipated NFL Game
Published 01/17/2023, 1:04 PM EST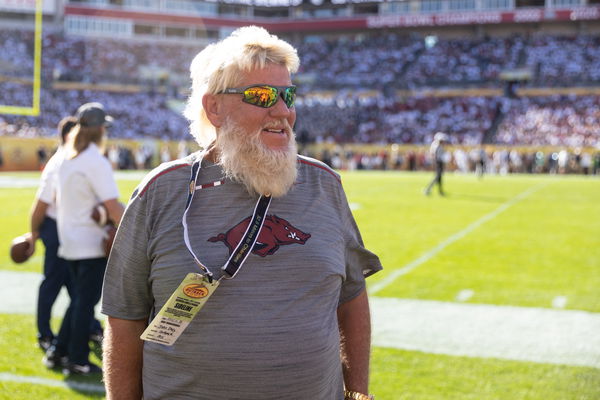 The final NFL Wild Card game surprised many, as the Dallas Cowboys outclassed Tom Brady's Tampa Bay Buccaneers to head into the NFL Divisional round. The disappointing defeat led to frustration from many fans in Tampa Bay. However, the presence of John Daly, Hulk Hogan, and Tom Cruise in Raymond James Stadium did uplift the spirits of some of the fans on the internet.
ADVERTISEMENT
Article continues below this ad
John Daly's hometown team Arizona Cardinals may have failed to qualify for the Playoffs, but he made sure to watch the Texas-based team win in Tampa Bay. The two-time Major winner is a close friend of the owner of the Dallas Cowboys, Jerry Jones.
With respect for Jones in his heart, Daly made sure he was in attendance at the Raymond James Stadium for the Wildcard game. However, the golfer also had staggering company with him in the postseason game.
ADVERTISEMENT
Article continues below this ad
John Daly, Tom Cruise, and Hulk Hogan watch Tom Brady get knocked out of the Superbowl contention
Apart from Daly, three-time Academy Award nominee Tom Cruise also was in the VIP section of Tampa stadium. The duo was shown on the big TV screen in the stadium along with the WWE Hall of Famer and Florida's resident Hulk Hogan.
Though many have begun considering this match as Tom Brady's last performance for the Bucs, the video of the trio also received attention on the internet. Undoubtedly, legends from different domains watching another great would instantly attract the world of sports.
A Twitter account named SuperBook Sports asked the question to its followers, "You get to go a game with one of these three… Who are you sitting with?" Though many may go into deep thought about whom to watch the match with, Twitter users were quite direct with their response.
Surprisingly, nearly all the fans preferred to watch the match with the "Wild Thing" John Daly. The golfer who is known for his witty personality won the unofficial public poll by a large margin.
Twitter users are in absolute love with Daly
Let's take a look at what the fans had to say:
I'd pick Daly over my own family.

— WrathOfTheNorth (@wrathofthenorth) January 17, 2023
Daly. Because I know I'm not paying for drinks and he's got a heater in case I need to bum one

— Aaron, from Wisconsin, with love (@cheddartalk) January 17, 2023
John Daly because he is a regular guy. Not even close to a debate!

— Brian Schauer (@Scholastica26) January 17, 2023
Daly all day… one of the others is a sell out and the other one jumps on couches

— Judd Percy (@JuddPercy1) January 17, 2023
Daly because the man has a mili on the game. No debate here

— Bagel & Locks (@BagelBets_) January 17, 2023
At least put 3 options that would make it close…Daly 1000%…

— sugarbear (@sugarbe68847049) January 17, 2023
ADVERTISEMENT
Article continues below this ad
Daly and it's not even close! My wife got him to send me a personal birthday video last March. Been my favorite golfer forever and always will be.

— Bradley Gates (@hawksdynasty360) January 17, 2023
ADVERTISEMENT
Article continues below this ad
Whom out of the three legends would you like to watch a game of football with? Let us know in the comments section below.
Watch This Story: John Daly Is Basically Charles Barkley, but Fatter and Better at Golf
Edited By: Manaal Siddiqui