'Tattoo on the Bu*t?' – USA Players Urge Steve Stricker to Uphold Informal Ryder Cup Tradition
Published 09/27/2021, 1:38 PM EDT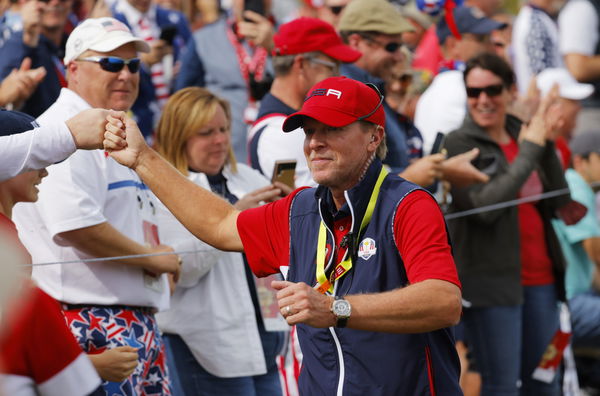 ---
---
The probability of Steve Stricker getting a tattoo following Team USA's win is not that high. However, in an earlier conference, he had said that he would get one on his butt.
ADVERTISEMENT
Article continues below this ad
Before the 2018 Ryder Cup, captain Thomas Bjorn had made a promise to his team. He said that if they brought home the cup, he would get a tattoo in honor of their win. Team Europe won, and he ended up getting the winning score tattooed on one of his butt cheeks.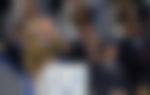 'Didn't hear anything'- Steve Stricker feigns ignorance regarding tattoo
ADVERTISEMENT
Article continues below this ad
In a press conference on Sunday, the question of the tattoo came up. When asked if there had been any discussion regarding it, the team turned to look at their captain.
Collin Morikawa cheekily asked him, "Tattoo on the bu*t?" Stricker pretends to be bewildered by the question and says, "I didn't hear anything about it." Morikawa then threw Xander Schauffele under the limelight and said, "Xander can do it."
'It may happen'- Stricker to getting a tattoo in a pre-event interview
A few days before the commencement of the cup, Stricker was asked if he will get a tattoo commemorating their win. Uncertain even then, he said, "We've discussed tattoos… The problem is my girls, my wife, and kids, have always asked me to get a tattoo and I'm like, 'I'm not putting any decals on my body. 'So, I'd have to check with them first."
He also said, "The players gave me an idea what I could put on there. I told them where I was going to put it. It was going to go right on my cheek," he said, pointing to his bu*tocks. "We'll see what brings about that, but we may have a tattoo artist guy come in on Sunday night. One way or another, it may happen."
Sports content writer Justin Ray took to Twitter to display his unhappiness at Stricker's decision. While reflecting the sentiment of the fans, he jokingly said, "A half-point has been subtracted from Team USA's score because of this."
ADVERTISEMENT
Article continues below this ad
Watch This Story
ADVERTISEMENT
Article continues below this ad
In all probability, Stricker will not be a part of this new tradition. What else do you think he can do to commemorate their win?