Team USA Players Unanimously Agree That 37-Year-Old Dustin Johnson Can Out-Party Them
Published 09/28/2021, 10:20 AM EDT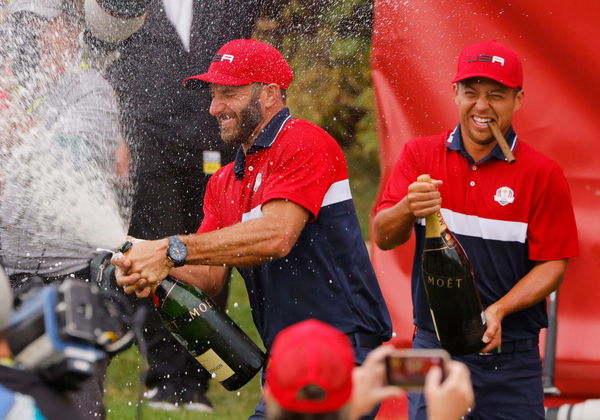 ---
---
Team USA's historic Ryder Cup win is nothing less than one big celebration. Players and fans have been ecstatic at the team's dominant performance, wondering if this is one of many more victories that will come their way. While Team USA must be partying to celebrate their win, they all agree Dustin Johnson – the oldest on the team – is on another level altogether.
ADVERTISEMENT
Article continues below this ad
Johnson might have just had one of the best weeks in his career. He is now the first American in 42 years to score the maximum available five points for his team. As a result, the Americans registered a stunning 19-9 victory over the Europeans.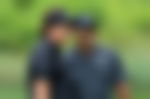 ADVERTISEMENT
Article continues below this ad
Can Dustin Johnson out-party all his Team USA teammates?
The celebrations by Team USA did not seem to come to an end. Xander Schauffele was seen drinking beers, while
Collin Morikawa
and Justin Thomas had bottles of champagne in their hands.
Now, the question asked here was whether a 37-year-old Johnson has the stamina to out-party his younger teammates. DJ agreed without missing a beat. Brooks Koepka and Thomas seemed to crack up at the answer, only to have them ask the team if they think Johnson could do so. As Koepka and Thomas continued to laugh, everyone even joked about Johnson starting right away.
ADVERTISEMENT
Article continues below this ad
The entire exchange was hilarious, fans on social media enjoying the vibe. Even as the press conference turned to serious questions, later on, the mood remained light.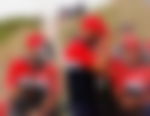 Watch This Story
Before the press conference began, Johnson was caught drinking straight from a large Moet bottle. Additionally, he had other hilarious moments while speaking to the press, giving everyone a good laugh as the team spoke to the media.
ADVERTISEMENT
Article continues below this ad
One highlight was Johnson addressing Steve Stricker, advising him on not making some things public. "Next time, let's not tell all the Green Bay (Packers) fans that you're a (Chicago) Bears fan," he said. The Packers' home state is Wisconsin, which is also where the U.S. Captain is from. Johnson even spoke about his bromance with Collin Morikawa, another fun moment during the team's press event.