Gopichand refuses all allegations
Published 07/09/2015, 6:56 AM EDT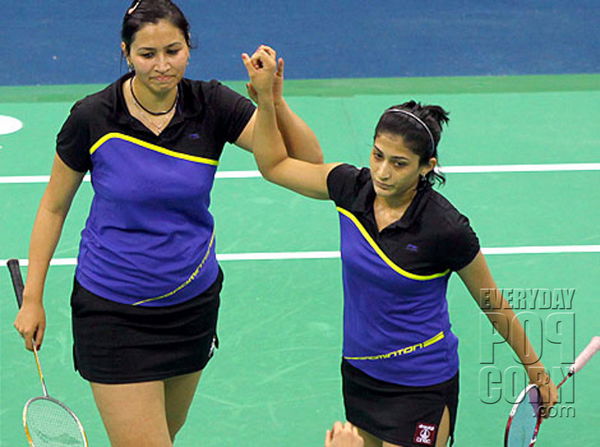 ---
---
The Indian duo of Jwala Gutta and Ashwini Ponnappa claims that due to lack of support from the Indian government it would be difficult for them to win medal at the next Olympics that are in Rio. This duo claimed this after their triumph in Canada Open earlier this month.
ADVERTISEMENT
Article continues below this ad
Jwala was seen telling PTI, "We need all the support that top players need. I think what the singles players are getting, if we get that kind of a support, I think Ashwini and me can win a medal at the Olympics, definitely. It will be great. At least now, people who are responsible wake up. I will be really happy. I don't know what to do really. I hope that they are at least thinking about it right now. This is what. Being a player, I am supposed to train and practice and only think about my game, what I have to develop and what weaknesses I have to take care of."
She also added, "Instead if I have to go to Delhi, spend a day, two or three, go behind them. This is what we should not be doing. We are the best bet in doubles for Olympics and we should be given all the support. At least after the Canadian Open, I hope people and the ministry of sports realize and support us. That's all we need."
ADVERTISEMENT
Article continues below this ad
Jwala was seen stating that because of the lack of support it would be difficult for all the youngsters to take up doubles. She was kept saying about the discrimination that she faced from those who play singles. Moreover she added, "Definitely (absence of government support would make it tough for the players to get into doubles). After Ashwini and me, I don't see anybody else coming up. You can see it. I stopped playing mixed doubles and there is no result in mixed doubles. I was world number six. People who are talking about me and my performance and questioning my career and my achievements, where is the next mixed doubles pair, please show it to me. I would like to know."
Being silent for last nine years, the Indian badminton chief coach, Pullela Gopichand on Wednesday said that all the allegations that are being mounted by the double pair, Jwala and Ashwini are all baseless. Gopi also said that SAI( Sports Authority of India) and BAI( Badminton Authority of India) has never ever discriminated for or against any player, be it be doubles or singles. Breaking the nine year silence he said, "Their allegations are baseless. All these years they got support from the government, SAI and BAI. We have never stopped them from participating in any tournament. No one said no to their demands." Also, ""When a person like SAI DG comes out in my support I thought I should not remain silent. All these years I did not react as I don't want to spoil the atmosphere and also because we have to participate in the big tournaments together.
"But now I thought it is not right to remain silent. They have made it a habit to criticize me without any substance. If they have a problem then they should come and tell us about it so that it can be solved. It is sad that these things are happening."
To Jwala's comment about any other duo playing, Gopi said there are two or more doubles playing who seem to be performing well. They are happy and have no complaints about the training. Moreover, Pradnya-Sikki have beaten Jwala-
ADVERTISEMENT
Article continues below this ad
Ashwini in two of their three meetings too.
What ensues will be followed keenly.
ADVERTISEMENT
Article continues below this ad