Graeme Swann Says England Have No Chance of Winning World Cup
Published 08/27/2014, 10:30 AM EDT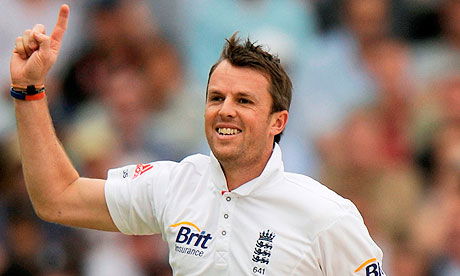 ---
---
The Inaugural Cricket World Cup was hosted in 1975 by England, the only nation able to put forward the resources to stage an event of such magnitude at that time. But it is really sad to see England's victory column still at zero. And according to English off-spinner Graeme Swann, this record is not expected to change any time soon. Speaking to BBC Radio's Test Match Special, he said "England do not have a cat in hell's chance of winning next year's World Cup unless they add more firepower to their top-order batting". This was preceded by Alastair Cook statement saying that "The team's prospects for the tournament in Australia and New Zealand are very good".
ADVERTISEMENT
Article continues below this ad
Ex-English cricketers Swann and Vaughan took on Captain Alastair Cook and questioned his ability to lead the team in the shorter formats of the game. Cook was named the English Captain following their quarter-final defeat in World Cup 2011 and since then his record has been average with a win percentage of 59%. They considered his approach to be defensive and lacking the much needed aggression for the shorter formats. In an official statement Swann said "I love Alastair Cook dearly but I don't think he should be bothering playing ODI cricket anymore. He doesn't need to. He has proved a very good point in Tests. Enjoy being England Test captain. Let young people play, people who want to smash it everywhere and win you the World Cup." Swann doesn't even consider Cook as the perfect opener for the England side, bearing his orthodox approach and lack of aggression. However, he thinks Vince should be doing it with Hales in a young vibrant team with Eoin Morgan as the captain.
Swann even criticized the style of cricket played by some of the senior cricketers in the team and felt it is high time that youth should be provided with the required opportunities to perform at the highest level. "I used to sit in the changing room and I always felt we were so far behind other teams because we play such an old-fashioned brand. Some of my best mates –Cook, Bell, Ballance are not one-day players who are going to win you a World Cup. Alex Hales is going to win you a World Cup; James Vince, Jason Roy, Jos Buttler, Eoin Morgan, they're players I wouldn't want to bowl at, who can build a total of 360-370", Swann added.
ADVERTISEMENT
Article continues below this ad
The off-spinner even condemned about team's approach over the past few years and said "We still play a ten-year-old game". According to him the team has no chance to create history in 2015 World Cup but in four years' time there might be a possibility. They need to utilize the young talent appropriately. Although he was pleased to see dynamic opener Alex Hales finally figuring in the selectors' one-day plans ahead of the World Cup next February and March.
Selection procedure for the England team has always been the reason of some concern. Michael Vaughan, England's captain at the 2007 World Cup, added "We've made the same mistake now as we did in my time, five-six years ago and in the 1990's. We're picking one-day squads on Test form. English cricket has always had Test cricket at the pinnacle, but the games are so different. It's a completely different era because of Twenty20."
Ravi Bopara, the experienced all-rounder is not in the squad for the five-match ODI series against India. He has been one of the few players having good records and enough exposure against the Indians. Swann and Vaughan expressed impatience regarding his absence in the team. "I'm amazed and staggered Ravi Bopara is not here," Vaughan said. "He could be considered England's best one-day cricketer in the last one-and-a-half years. To throw away all that experience, know-how, bowling ability. I'd be amazed if he's not back in by the World Cup". Swann called this "absolutely crazy", saying "Ravi gives you so much more than batting – bowling, unbelievable fielder." Bopara has scored 2,453 runs in ODI cricket at an average of 31.44, and taken 37 wickets at 37.45 with an economy rate of 4.88.
Swann also expressed sadness that the call up for Hales, a former Nottinghamshire team-mate, had taken so long and felt that England are late in drafting him into the team. According to him. Hales should have been in the side for three or four years and is the future of England ODI team.