Granit Xhaka: Profiling Arsenal's new Swiss army knife
Published 05/22/2016, 9:55 AM EDT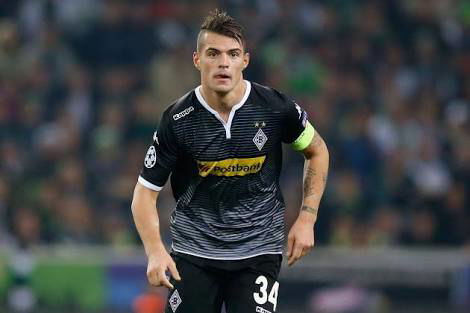 ---
---
Arsenal's first major piece of summer transfer business has been executed with pleasing swiftness. Swiss midfielder Granit Xhaka is the man, signing on for a reported £25 million plus further fees dependent on future appearances and major honours won. Xhaka arrives to take his place in an Arsenal midfield weakened by the departures of Tomas Rosicky and Mikel Arteta. It will be interesting to see how the 'Swiss army knife' fits into the scheme of things.
ADVERTISEMENT
Article continues below this ad
Xhaka is a significant talent; while still a teenager at FC Basel, his coach Thorsten Fink declared Xherdan Shaqiri the best young talent in Switzerland, after Xhaka. His immense promise prompted Borussia Mönchengladbach to take the plunge and sign him for €8.5 million. He had allegedly been monitored by the German club for the preceding two years.
The then-Swiss national coach Ottmar Hitzfeld drew comparisons between the young man and Bastian Schweinsteiger. It was big praise, and his four subsequent years at Mönchengaldbach went some way to justifying that hype.
ADVERTISEMENT
Article continues below this ad
Xhaka is a deep-lying playmaker – his heat map of touches in 2014-15 was highly concentrated in the zone immediately behind the half-way line, around the rim of his half of the centre circle, and as such will slot in at the base of Arsenal's midfield. Xhaka played in a midfield two in Germany, and could potentially play the same role in North London in a 4-2-3-1.
A possible partnership with Aaron Ramsey could be fruitful; Ramsey can be let off the leash, safe in the knowledge that Xhaka is hanging back in front of the defence. In more challenging games, Xhaka's naturally defensive position can be harnessed for extra security in a midfield three.
Xhaka's natural instincts are not attacking – he struggled when played behind the forward in Hitzfeld's Switzerland and has only managed nine goals in over 200 career appearances over six years – but he does make occasional forays up the pitch to support the attack. Xhaka's shooting, though not always accurate, from range could prove a useful weapon for Arsenal.
When faced with massed defences, as they often are, Arsenal's space is choked along the 18-yard line. Xhaka's distance-shooting mixes up the Gunners' offence and gives a different option.
The midfielder's best qualities, however, are his intelligence, vision and range of passing. Capable of holding on to the ball as well as playing piercing passes with ease, Xhaka is not only skilful but also a perfect natural fit for Arsenal's slick passing game. Not only that, his high footballing sense means that Xhaka also knows exactly when to hold on to the ball and when to release it.
The ball can be played to a forward's feet or his head with equal proficiency, meaning a supreme understanding with Olivier Giroud is waiting to be established. Although they are currently deprived of one due to injury, Xhaka playing passes into space for pacy forwards to chase onto will sharpen Arsenal's counter-attacking game beyond recognition.
ADVERTISEMENT
Article continues below this ad
Xhaka can be assumed to become Arsenal's chief string-puller from deep in midfield, with the occasional push up front to support the attack, a sort of half-way hybrid of the dynamic Ramsey and the enforcer Francis Coquelin but with greater technical ability and superior vision.
Over the past few years, Xhaka's game has matured rapidly, his involvement in a match becoming greater and greater with each passing season. Tackles, interceptions, touches and passes per game have all increased in this time, with Xhaka developing into one of Europe's better all-round midfielders. No outstanding issues remain, except for the one of discipline.
At 6'1″ and almost 13st, Xhaka has the physicality to thrive in England, plus decent aerial proficiency. His size, however, has been used destructively – seven yellows and three red cards in 2015-16 alone point out an issue of temper. Xhaka is combative to a fault, and needs to keep an even temper when he is inevitably targeted for his short fuse by opponents.
ADVERTISEMENT
Article continues below this ad
All in all, the signing of Xhaka, who wanted questions about his future resolved quickly before the European Championship, represents a coup of sorts for Arsenal. Although he does not have the profile of a Mario Götze, he can develop one for himself with Arsenal.