Greatest Career Achievements of Roger Federer
Published 08/08/2018, 6:11 AM EDT

Follow Us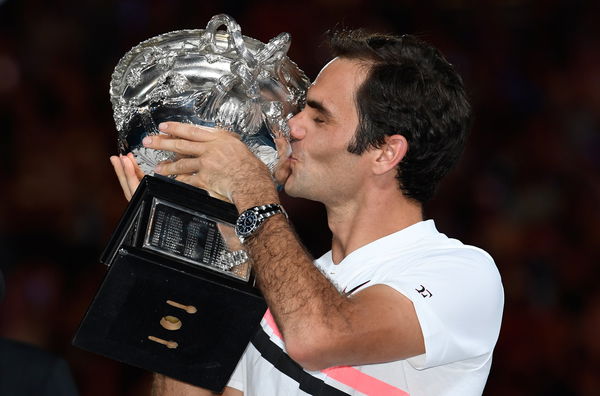 ROGER FEDERER had conquered 127 other men to stand alone on the second Sunday of the Australian Open 2018, for 20 times in his illustrious career. At 36 years 173 days, Roger Federer also became the oldest man to win a Grand Slam title since Ken Rosewall in 1972, when he won in Australia in 2018.
America's Favorite Video Today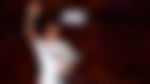 Over the past decade and a half, Federer has achieved feats that nobody dreamt about. He has shattered records every time he has stepped onto the tennis court, carrying his customary mojo.
ADVERTISEMENT
Article continues below this ad
Experts have written almost everything there is to write about him and still continue to bow down to his greatness and even the finest of them sometimes fall short to describe this legendary tennis athlete.
Out of the numerous achievements that Roger Federer has in his historical career, we take a look at the 10 most important ones. These career achievements mattered the most in Federer's journey from a boy to a legend. They have also cemented his place as the greatest ever to grace the courts.
Career Achievements of Federer :
#10.  237 Consecutive Weeks
From February 2004 – August 2008, Federer spent a staggering 237 weeks at the top of the ATP Rankings.
The man from Basel broke the record of Pete Sampras(160 consecutive weeks) and became the first player ever (among both men and women) to be at the top for more than 200 weeks in succession.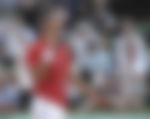 Federer claimed the top spot after winning his second major at Rod Laver Arena and lost his hold to Rafael Nadal at Wimbledon, slipping to the second spot. Roger Federer has spent a total of 310 weeks at World No.1.
Federer regained the top spot in 2009, in 2012 and then again in 2018!
#9.  Olympics Doubles Gold and Singles Silver
The 2016 season was probably his last shot to get the gold medal in singles tennis. Something that had always eluded him in his career. However, who knows, he might stray long enough till the time Tokyo is around. But Federer can still look back at his journey at the biggest sporting extravaganza without any regrets.
In 2008, Federer added an Olympic medal to his illustrious trophy cabinet. The Swiss teamed up with his friend
Stanislas Wawrinka
for the Beijing Olympics and won the gold in men's doubles.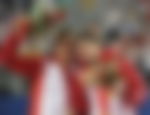 The Swiss pair beat Sweden's Thomas Johansson and Simon Aspelin 6-3,6-4,6-7,4-7,6-3 in the final showdown.
Stan's backhands and Federer's ground-strokes helped the duo dominate the match. It was a significant win for Federer in his career that year, after he lost to Nadal in finals at Wimbledon.
Federer said "It's a magical moment. Something incredible in my career."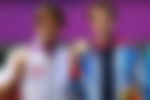 Federer then returned to the Olympics in 2012, where he bagged the Silver in singles.
Andy Murray
outdid the 20-times Grand Slam champion in straight sets in the finals. But Federer was mighty pleased with his performance at the All England Club. He also played against Juan Martin Del Potro in the semifinals. That match was the longest three-set match of the open era.
#8. Three Slams in the calendar year – three times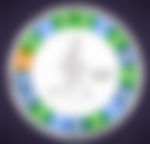 Federer became the first man in tennis history to win three Slams in the calendar year thrice in his career in 2004, 2006, 2007 (Australian Open, Wimbledon Championships, and the US Open). This was a huge achievement and nobody is close to matching it.
Federer also became the first man ever to defend all his three majors the next year. He defended his Australian Open, Wimbledon and US Open titles of 2006.
#7. Wimbledon Domination, 5 Consecutive Titles
When Federer won his first major in 2003 at the hallowed greens, many predicted that he would go on to capture another. Well, he did. Not just one more, but 4 more in the next four years.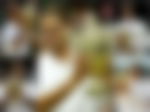 After beating his arch-rival Nadal in 2007 final, in a five-set thriller, Federer equaled Bjorn Borg's record of 5 consecutive Championships.
Federer now stood as one of the greatest grass-court players ever- only next to Sampras.
But after winning his eighth Wimbledon in 2017 and making it to 11 finals at Centre Court, Federer has proved that he is undoubtedly the greatest grass-court player ever.
#6. Davis Cup (2014)
A 6-4, 6-2, 6-2 win by Roger Federer finally helped his country to win the Davis Cup. Another moment that made Federer shed tears of joy, and something that he could take pride in, once he reflects back on his glorious career.
It was the 85th Swiss attempt to win this prestigious event, and what better way than to see the most loved athlete of the national seal this dream, in the fourth rubber.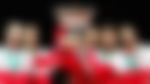 "I didn't need this to tick off the boxes." said the 20-times Grand Slam winner after winning the most important team trophy of the game.
A tearful Federer said, "I'm happy I was able to stay calm; this one was for the boys".
Federer was doubtful to compete in the last rubber due to his back issues, but he managed to put on clinical performance and dispose of the challenge of Frenchman Richard Gasquet and created another chapter in the history books with an inch-perfect winner.
#5.  US Open – 5 consecutive titles
ADVERTISEMENT
Article continues below this ad
Roger Federer has dominated the American hard-court like no other player in history. From 2004-2008, Federer demolished everyone who stood on the other side of the net at Flushing Meadows.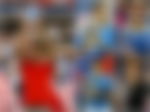 As Federer defeated Andy Murray in 2008 final, in straight sets, he not only equaled. The open era record of most US Open titles(5) held by Pete Sampras and Jimmy Connors, but also became the first man in history to win it five times in a row at New York. McEnroe and Lendl had won three straight times before Federer broke their record.
ADVERTISEMENT
Article continues below this ad
This feat even surpasses his streak of five Wimbledon's probably due to the fact that it was not achieved on the grass.
Federer also became the first man in the open era to win his first four slam finals, when he won his first US Open crown beating Andy Roddick in 2004. He could have taken his record a step further by winning in 2009 but lost to Juan Martin Del Potro in the finals.
#4.  Most weeks as the WORLD  NO. 1, 17th Major
Roger Federer missed out on breaking the record of Sampras- most weeks at the top- in two attempts. Since 2009 he was not ranked the best and this feat looked beyond his grasp.
Federer entered Wimbledon in 2012, having not won a major out of the last nine. He survived a third-round scare against Julien Benneteau and came back from two sets down to win the match. He later went on to beat Andy Murray in the final, in four sets.
Federer lost the first to an upbeat Andy, who dominated from the baseline and the second set too was a close affair. But with a supreme drop-shott volley, Federer sealed the second set and then under the Centre Court roof unleashed his unplayable self to wrap up the match.
It not only tied him with Sampras' seven titles but also took him back to the top of the ATP Rankings.
This proved crucial as Federer then went on to capture a significant record that was missing from his CV. Federer surpassed Sampras to be the world number one for the most number of weeks!
He now has a total of 310 weeks to his name, as the world number one!
#3. 15th Grand Slam title
However, the match became an all-time classic because of the final set. Roddick and Federer were battling for supremacy, holding onto their serves. Federer made it 15-14 and Roddick had to yet again serve to keep his Wimbledon dreams alive. It was after a staggering 77 games Andy Roddick's serve was finally broken for the first time in the match and Federer's ecstasy knew no bounds. A perfect moment to capture! Watched by the legendary Pete Sampras himself sitting in the Royal Box Federer surpassed Pete's record of 14 majors.
#2. 18th Grand Slam Title
Federer's 17th came way back in 2012 and since then he has been awfully close to grabbing his next. Losing twice in Wimbledon final and once in US Open final- all of them to Novak Djokovic, it looked like the Serb was never going to let him win the elusive eighteenth. And when Novak was upset early in the rounds, Federer was blown away too 2014 US Open SF & 2016 Wimbledon SF and the world could sense time running out for this legend.
In 2016, he underwent surgery but failed to recover completely and had to call off his season after his Wimbledon exit to Milos Raonic. Six months later, seeded 17th, Roger Came out at this year's Australian Open as an underdog and his best run was predicted to be a defeat at the hands of Murray in quarters. But as fate would have it, we got lucky enough to watch another Fedal in a major final.
Read: 20 golden moments from Federer's career
Federer and his numbers against Rafa were terrible, it was the toughest matchup he could have asked for in the final and he was never considered a favorite entering this one. But Federer took the challenge and produced some inspired tennis to create history. Winning 6-4, 3-6,6-1,3-6,6-3 after being down a break in the decider.
He, now, is the only man to have won three different slams 5 times each. This was surely his greatest win in a major final.
(Special Mentions)- 6 ATP World Tour Finals, 5 Year-End No. 1
His domination at this event is a clear sign of his superiority among his competitors.
The Swiss legend is the only player to win consecutive ATP World Tour Finals on three occasions. He is also the only man to win it without losing a single match – a feat achieved 5 times out of 6.
Roger Federer also joined Connors and Sampras when he ended the year as the no.1 player for the 5th time in his career.  (2004-07, 2009)
#1. Roland Garros Champion
This was it. The single greatest thing that Federer had ardently wished for. To be crowned as the champion of Paris. He finally lived his dream and was reduced to tears by the magnitude of it.
Soderling was riding the highest wave of his career becoming the first man to beat Nadal in Paris. Had it been Nadal vs Federer in the final, maybe Federer would have suffered another heartbreak.
Federer was finally destined to clinch the only major trophy that he had failed to kiss. It was a trophy that probably would've given him nightmares. You cannot be called the greatest if you have failed to win all majors!
Roger Federer defeated Soderling 6-1,7-6, 6-1 and 6-4. and as soon as Soderling hit the Federer serve in the net. The Swiss dropped to his knees, with tears rolling down his eyes – both of joy and sheer relief.
"This was my greatest victory," said Federer.
"It takes away so much pressure. Now, I can play in peace for the rest of my career.
"Nobody will tell me again that I have not won Roland Garros. It's nice to be up here on the podium as a winner this time."
Bonus. 100 Career Titles
Roger Federer is also the second player to breach the 100 career titles bracket. He only just achieved this target after defeating Stefanos Tsitsipas in the final of the Dubai Duty-Free Tennis Championships. Only Jimmy Connors lies ahead of him on 109 career titles.
After giving so much to the game over so many years. The time that Federer had a reward- to be crowned as the French Open Champion!
If you liked this article, click here to check out:
'The Top Federer Stats Which Even the most religious Federer fan didn't know of' 
Providing feedback will help us make your experience better.
Enjoyed Your Read? Let us know how likely you are to recommend EssentiallySports to your friends!