Greatest Run Outs in International Cricket
Published 06/14/2015, 3:40 PM EDT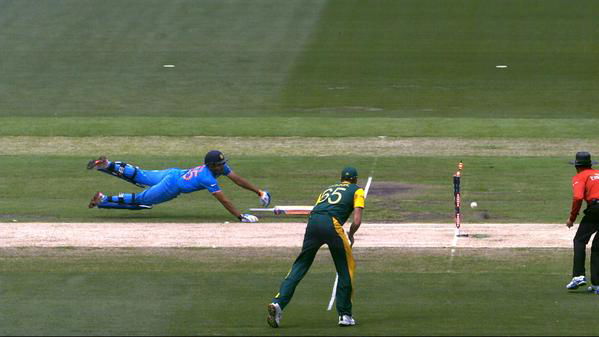 ---
---
Whenever a fielding side yearns for wickets and waits for a turnaround to happen, perhaps, an extraordinary piece of fielding is what salvages the situation.
ADVERTISEMENT
Article continues below this ad
Which one is the best run out according to you ?
Take a look at our selection of the most brilliant efforts by fielders to run a batsman out in international cricket.
ADVERTISEMENT
Article continues below this ad
10. Andrew Symonds
This one is a prototype of the kind of fielder that the stout Australian was, diving forward and hitting the stumps with only one to aim at. Bang on target!
9. Cameron White
Cameron White at point, dives to stop the ball while there is a confusion  between Ian Bell and Paul Collingwood – Bell as if has his feet stuck in a swamp, and Collingwood is more than half way down the pitch – meanwhile White's back-handed throw hits the stumps at the batsman's end. Royally taken !
https://www.youtube.com/watch?v=-fwQqjyb5tc
8. Kiran More
Kiran More made an effort to dismiss David Gower when he looked good for his 25 off 30 balls including six boundaries. There's what you call match awareness.
https://www.youtube.com/watch?v=-fcyepzbDxk
7. Roger Harper
In another instance of match awareness, Roger Harper dismissed Graham Gooch.
As Gooch danced down the track and played the ball straight towards Harper, the latter in turn hurled it back at the stumps.
6. Kiran More
Kiran More effected this amazing run out of Martin Crowe in the 1992 World Cup, getting rid of the ball quickly enough to obtain the prized wicket. Watch the video from 4:00- 4:42 to be amaze by More's work.
5. David Warner
The aggressive batsman and exciting fielder from Australia hit one right on to the stumps. Running in from deep and with a one-handed pick up Warner dismissed a diving Ian Bell. Some skills those!
4. Ravindra Jadeja
Ravindra Jadeja exhibited this rare brilliance from an Indian fielder when he dismissed another terrific fielder and an even better batsman – Ricky Ponting. As Ponting ran for a second after a bit of hesitation, Jadeja pelted a bullet at the keeper's end, bull's eye!
https://www.youtube.com/watch?v=WuTzWThdVUc
3. Greg Blewett
Talking of throws from the deep, surely no one can beat this moment, to effect a run out. With a 70-metre throw from the boundary, and an Aussie skill of aiming at the stumps, Greg Blewett ran out a rather careless Sadagoppan Ramesh – who ran for what should have been an easy fourth run.
2. Jonty Rhodes
Here's one of the most iconic moments from 1992 World Cup – Jonty Rhodes storming in from point, choosing not to throw, and blowing the stumps away – Inzamam-ul-Haq being the unfortunate victim!
1. AB de Villiers
ADVERTISEMENT
Article continues below this ad
And another of those lists in which the South African takes the top spot – AB de Villiers is seen at his best in this effort to run out Simon Katich. Watch in real time and you'll probably not be able to determine when the ball was released. One the most incredible run outs.
ADVERTISEMENT
Article continues below this ad