Grigor Dimitrov Admits He is Not Ready to Play at the Highest Level in the Aftermath of Coronavirus
Published 07/27/2020, 7:37 AM EDT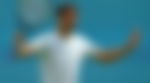 ---
---
The Adria Tour was an exhibition event started by Novak Djokovic. While fans certainly enjoyed watching the event, it had some negative effects. Many players got infected by the coronavirus that has quickly made its presence felt all over the world. Grigor Dimitrov was one of those players and he has just talked about his recovery.
ADVERTISEMENT
Article continues below this ad
A Tennis Majors exclusive : Covid-19 was "hard" on Dimitrov, and return to play has been challenging. Listen to him 👇#UTS #tennis #covid pic.twitter.com/zz279RW5ig

— Tennis Majors (@Tennis_Majors) July 26, 2020
ADVERTISEMENT
Article continues below this ad
Grigor Dimitrov On The Virus
As the above tweet by Tennis Majors shows, Bulgarian star Grigor Dimitrov talked about the virus. While we're happy to hear about his recovery, the virus apparently had some negative effects on Dimitrov while he was infected. He said,
"The virus was hard on me so I stayed home for about a month. I was not breathing well, not feeling well, tired, you know the symptoms. I had no taste, no smell, everything you can possibly think of. So, it was no fun but in a way, I am kind of lucky to be on the court right now."
The Bulgarian has started to play some competitive tennis at exhibition events like the Ultimate Tennis Showdown. After losing his match there, he spoke about how he is not ready. He said,
"Clearly, I am not ready to compete at the highest level right now. I am not shying away from that, I admit it. Being home for so long never helped. I am clearly not able to play my best but health is my number one priority."
ADVERTISEMENT
Article continues below this ad
Everyone is going to be glad to hear that Grigor has returned to playing competitive tennis. But the question on everybody's mind right now is: will he return for the professional events that are scheduled for August? We're especially thinking about the US Open!
Many players have already said that they are planning on skipping the event. Grigor Dimitrov has said that he isn't about playing as he doesn't know how his body will respond. Hopefully, he will decide to play at the US Open, set to start on August 31.
ADVERTISEMENT
Article continues below this ad
Source: Tennis Majors Twitter