Grigor Dimitrov : Return of Baby Fed
Published 02/20/2017, 8:58 PM EST
By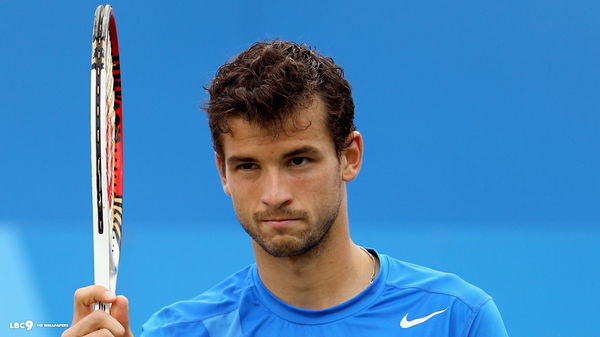 When a player's results improve, it is difficult to pinpoint what exactly has changed about his or her game. The strokes, the tactics and the movement are likely to look the same. And that has exactly been the case with Grigor Dimitrov's sudden run of brilliance in 2017.
ADVERTISEMENT
Article continues below this ad
Two years ago, the boy popularly known as Baby Fed had dropped out of the Top 10 and was being framed by many as a lost cause. He was style over substance and yet another tale of talent gone to waste.
Dimitrov's run in 2017 has been beyond extra-ordinary, a run that took him to his second Grand Slam semifinal (and first since 2014), and includes Top 20 wins over Kei Nishikori, Milos Raonic, Dominic Thiem, Richard Gasquet and David Goffin. Even for hardened tennis fans, it has been a thrilling ride. Dimitrov, at his best, does play the same type of varied and aggressive tennis that has made Roger the most popular player of this era.
ADVERTISEMENT
Article continues below this ad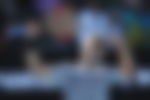 So the question that intrigues tennis fans around the globe is- What has changed so drastically?
It is clearly visible that, "The shots that he used to hit out are now all going in." In Brisbane and then in Melbourne, Dimitrov  set up for his forehand earlier and hit  winners more often. His one-handed backhand, which was seen as a  liability in the past, has become steadier. And twice at the Aussie, against Denis Istomin and Hyeon Chung, Dimitrov took a quick first-set loss in stride and bounced right back to win in four.
However,  all of those things are just the effects of improvement; the causes have remained a mystery. His recent interview gives a hint-
Dimitrov was asked, "In which specific ways have you matured?"
 "I think my focus has been good," Dimitrov said. "The mentality has been there. I've been present when I'm playing matches."
"I've been present": This is what has been the crucial turning point for the Bulgarian. During 2015 and 2016, he looked absent on court much of the time and consequently the poor results weren't a surprise. While Dimitrov isn't any more demonstrative than he has been in the past, in 2017 the eyes and the walk look determined again.
Dimitrov has certainly taken his share of rides on the tennis-coaching carousel over the years. He's been to Sweden, Paris and Southern California, and worked with people as varied as Peter McNamara and Franco Davin. Until now, his best run had been with Roger Rasheed, an Australian taskmaster known for his motivational skills. It seemed that the placid Dimitrov needed someone who was his opposite to kick him into gear. This time, though, he's succeeding with Dani Vallverdu, who is just as mellow as he is.
"Now that I'm working with Dani, it's also nice to have someone you can really get close to and share a lot," Dimitrov told ATPWorldTour.com. "We're simplifying things, working on the right things in a way that helps you become a little bit calmer."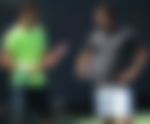 According to Dimitrov, that can involve playing a match and then immediately going out to hone specific aspects of his game.
"We've been doing a lot of work, even after matches— working on small details, whether it's backhand cross or backhand down the line—to try to make everything a little bit more automatic and lose yourself in the game," he said.
"He's determined to play the best tennis he can," Vallverdu said. "During the past year he's been struggling to find his own identity; he didn't know which kind of player he was."
As a longtime prodigy sponsored by Nike, Dimitrov probably tried too hard in the past to be a star, rather than just a good player. As was often said of the young Federer, Dimitrov had too many options; he needed to learn to pick the right one for the right occasion.
"I have so many different interests in so many areas that sometimes I just need to chill, step back and let it be," Dimitrov told ATPWorldTour.com.
Once again, though, when it comes to shot selection, the differences in Dimitrov's game from last year to this year are very subtle. He's using his backhand slice more and more effectively. He's doing more with his mid-court forehands when he gets them. He's changing paces on his serve. But still that doesn't add up to a radical shift in his approach.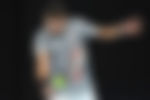 ADVERTISEMENT
Article continues below this ad
What has really worked for him is a change in mindset. When your coach says "keep it simple," you tend to relax and play more instinctively. That alone is enough to help most players improve.
Dimitrov's improvement could be seen most clearly in his impressively one-sided 6-3, 6-2, 6-4 quarterfinal win over David Goffin, a player four spots ahead of him in the rankings.
ADVERTISEMENT
Article continues below this ad
There were rallies where, Dimitrov had a number of chances to go for an outright win with his forehand from behind the baseline. The old Grigor would have pulled the trigger, instead, Dimitrov held his fire, sent a few forceful but safe balls back, and waited for something better. This new found patience is what has propelled Dimitrov further.
There's a fine line between patience and passivity in tennis. Dimitrov is learning to stay on the right side of both. And who knows, it may be enough to push the boy once known as Baby Fed to become a Grand Slam champion.