Simone Biles Responds to Fan Asking Her To Participate in 'Crate Challenge'
Published 08/24/2021, 10:43 AM EDT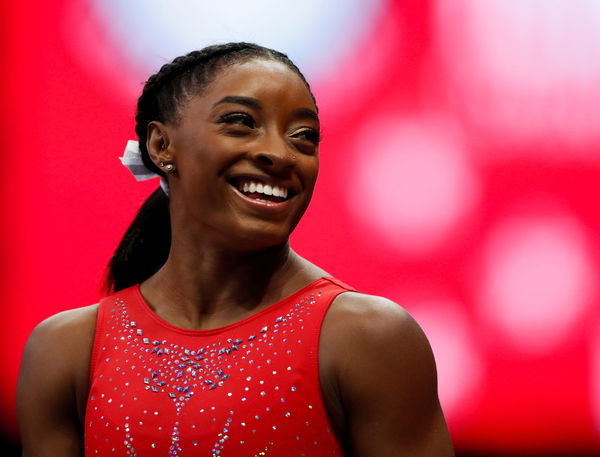 ---
---
The Tokyo Olympics may be over and athletes have come back home, enjoying a much-needed break. However, the non-athletes have also found a way to make themselves an exclusive sporting event that has taken social media by storm. 
ADVERTISEMENT
Article continues below this ad
The crate challenge, popularly known as 'Hoodlympics', involves a box of crates set up like a pyramid. One participant has o climb this and make it all the way to the top and back down without falling. Plastic crates are deviously wobbly and have no structural integrity once stacked.
ADVERTISEMENT
Article continues below this ad
These crates can topple over at even the slightest wrong movement which is why at its very peak, it is almost impossible to maintain balance for an average-sized human. Although, this is not the key factor in deciding the outcome, since the human body does most of the wobbling itself. 
Most participants let nerves get the better of them and fear of falling makes the knees tremble. The crates amplify these movements if anything and leads to a swift downfall. While many have tried and failed at this, some have sought the entry of celebrities. 
A fan challenged ace gymnast Simone Biles to get over the crates on Twitter. Responding, Biles seemed more intrigued as to where those crates were coming from.
Simone Biles is probably the only one who can win the crate challenge
To answer that question, these crates are popularly used for storing glass or plastic bottles for soft drink companies. They are usually made of plastic and on their own are very light. The trick to master the crate challenge is to keep a low center of gravity while climbing such that balance is maintained even at the peak. 
ADVERTISEMENT
Article continues below this ad
As an Olympic gold medal-winning gymnast, Simone Biles probably knows every trick in the book when it comes to balance. Mastering the art all her life through training, she could probably be the only one capable enough of completing this challenge.
ADVERTISEMENT
Article continues below this ad
Although few have actually made it back down, the challenge, it's more in getting off the top than getting to it. While many have tried and failed and earned concussions more than anything, the 'Hoodlympics' continue to rage on in full force.