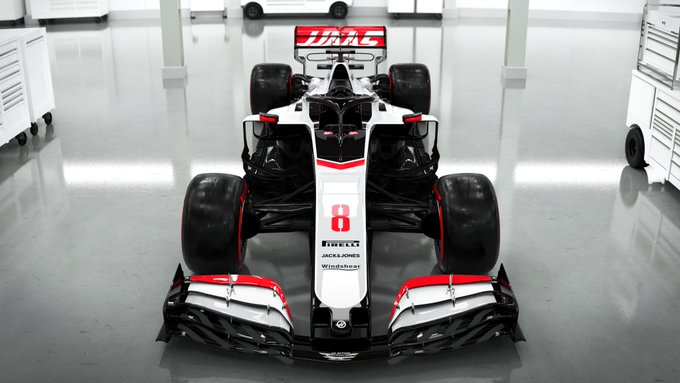 Apparently, the Haas F1 team buckled under pressure and drew first blood in the F1 car launch war. The American outfit has become the first team to reveal their 2020 Formula 1 challenger, the VF-20. The black and gold of 2019 has been done away with, in favour of a more familiar colour scheme.
Haas F1 will be looking for redemption after the nightmarish 2019 season, which saw them beset by on-track and off-track drama. However, this time, the American team is aiming to lead the midfield battle, when things did not go their way last year. The VF-19 was so bad that Romain Grosjean declared that was not even good enough for a museum.
So the team have gone back to the drawing board and chose to return to a more familiar colour palette. Ahead of its physical launch ahead of pre-season testing, Haas released digital renderings of their 2020 beast. When testing finally kicks out, Kevin Magnussen drew heads and will have a first crack at the new machine. Meanwhile, Romain Grosjean will be taking over the next day.
We couldn't wait any longer… 🤩

Presenting our new look for 2020 🔥#VF20 #HaasF1 pic.twitter.com/EJAYq6C6NY

— Haas F1 Team (@HaasF1Team) February 6, 2020
What's new about the Haas VF-20?
Apparently, the VF-20 is supposed to be an 'evolution of its predecessor'. It will have to be, as the regulations have not changed over the winter. Team boss Guenther Steiner also hopes that the team learned from last year's mistakes.
"It's always exciting to see the development of a new Formula One car and undoubtedly the VF-20 has to deliver where our previous car didn't," said Steiner in a statement. "With the regulations remaining stable into this season, it's allowed us to improve our understanding of the car and to scrutinize ourselves more in order to find solutions and applications to channel into the design of the VF-20."
He acknowledged that 2019 was an ink stain in their record, but it was important to learn from such mistakes. Steiner revealed that the whole team was forced to introspect and understand what they can do better.