Halo Infinite: 343 Industries Reveals New Weapon, Brutes, and More
Published 05/11/2021, 3:37 PM EDT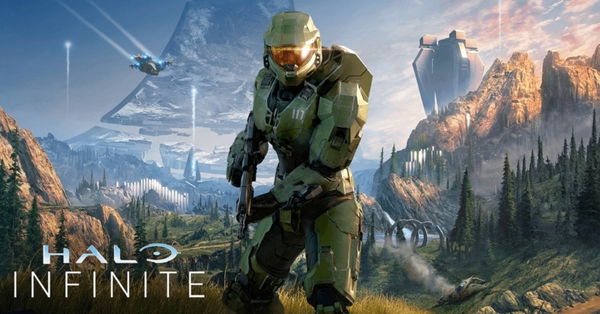 ---
---
Following the disappointment of fans with the first look of Halo: Infinite at the Xbox Games Showcase last year, fans have been patiently waiting for further updates regarding the postponed launch of this title. Halo: Infinite failed to be at par with the new-gen titles and disappointed fans as the headlining title of the event. Many in the community had even commented that the graphics of Halo: Reach look better than that of Infinite. These reactions made 343 Industries postpone the launch of the game subsequently and work on it further. However, there have been very few occasional updates from the end of the developers regarding this title, most of it circulating within fan community discussion threads and forums.
ADVERTISEMENT
Article continues below this ad
Earlier today, 343 Industries revealed quite a handful of new gameplay elements of Halo: Infinite in an official blog post. While the blog post says that the game might be on its way in a few months, there is not much to go on about the release date. However, as fans, these blog posts are giving us plenty of fuel to hype over the upcoming title.
The developer blog post showcased two new Brute warriors that will feature in the title. In addition to this, the blog post gave us the first look at a new weapon and revealed a new vehicle type in the game.
ADVERTISEMENT
Article continues below this ad
Further reading: Fortnite Champion Series: Infamous 0-Kill Squad Finally Gets Its First Kill in the Tournament
ADVERTISEMENT
Article continues below this ad
343 Industries has revealed new brutes, a weapon, and a new class of vehicle to feature in Halo: Infinite
First things first, let us talk about the two new brutes that players will encounter in the game while playing as Master Chief. These two Brute brothers are Tovarus and Hyperius. Oh, and "they aren't big fans of Spartans." The blog post revealed the concept art for the two as well. David Heidhoff, the eminent concept artist, is the man behind the Hyperius concept art, and on the other hand, we have Nuare & Zack Lee who have brought the Tovarus concept to life.
Now, as the post says, " beefy Brutes tend to need a beefy weapon." On that note, meet the Scrap Cannon. This one is exactly what it sounds like. Initially nicknamed the "Gatling mortar", this bad boy hurls hot scrap metal at the enemies. Yes, it is as annoying as it is deadly. The concept art makes it seem like it stays fixed on the mount, but the description says that it is detachable, so there's that.
ADVERTISEMENT
Article continues below this ad
Lastly, there is the Razorback vehicle. The blog post describes it as "the Warthog's more spacious and robust cousin—perfect for crashing Banished house parties with and taking on scenic drives." 
Well, we'll be honest, 343 Industries just gave us enough to go on until the title hits the stores!
Trending Stories