Halo: Infinite- Developers Share Disappointing News for Fans
Published 03/12/2021, 2:46 PM EST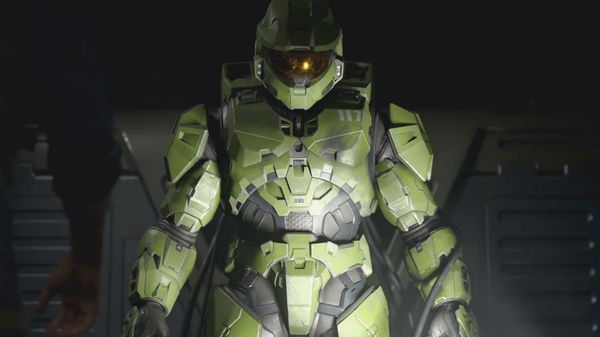 ---
---
Halo: Infinite headlined the roster of new-gen titles for Xbox Series X. The title had a substantial amount of hype, since it would have been the first title in the iconic franchise after seven years. The Halo fan base was thrilled about this title, but ultimately it ended up disappointing them. Even after the promises of new-gen gaming, Halo: Infinite failed to meet the expectations it set.
ADVERTISEMENT
Article continues below this ad
As a result, 343 Industries postponed the release of this title to work on it, and ever since, we have not got many updates about its development. However, the hopes are still high.
Devs at 343 Industries recently broke out a bit of bad news for the fans. A core component of Halo gameplay is the wielding of dual guns. However, according to 343, this feature will not be there in the upcoming installation of the series, well at least not at the launch. The devs confirmed this in a recent Q&A video on the Halo YT channel.
ADVERTISEMENT
Article continues below this ad
Further reading: Fans Are Unhappy With Riot Games's Decision to Deny Valorant Champion to Stream Masters Stage 1
 Sandbox Designer shares his thoughts on Halo: Infinite
According to the developers, the major focus of 343 right now is on the weapons and combat gameplay of Halo: Infinite. They believe that the dual-wielding gameplay just isn't a part of their plans right now. Quinn Delhoyd, the Lead Sandbox Designer at 343 Industries, says:
"I think we have a team where we can do anything, but we can't do everything… We wanted to really focus down on the weapons, gunplay, grenades, melee… and where we wanted to put that bet was on bringing equipment back. So right now, dual-wielding isn't necessarily there, but that's because we're trying to focus on all the other things."
ADVERTISEMENT
Article continues below this ad
In addition to this, the devs confirmed that yet another iconic Halo feature will not be available in Infinite: playable Elites. Throughout the Halo franchise, players had the choice of playing as the Elites, also known as the Sangheili race. Moreover, they could choose to play as either playable enemies or as playable allies.
Sadly, this feature will not be returning as well. Delhoyd explained further:
"This is a Master Chief story and a Spartan story, especially in multiplayer… We wanted to make sure we focus on how Spartans battle against each other, make sure it feels fair and that it's competitive and balanced."
ADVERTISEMENT
Article continues below this ad
However, he did mention that there is the possibility of these features making their way into the game later on. Like he said, "Never say never."
Let us wait and see how the game finally turns out. Truth be told, we still have our hopes up about Halo: Infinite.
Trending Stories