Hamilton must wait to be a great, says Stewart
Published 10/23/2015, 2:25 PM EDT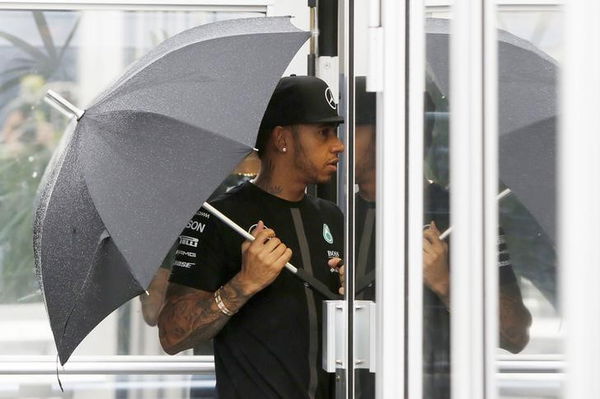 By Alan Baldwin
ADVERTISEMENT
Article continues below this ad
AUSTIN, Texas (Reuters) – Lewis Hamilton can win his third Formula One world championship on Sunday but the Mercedes driver will have to wait a while longer before he can be truly hailed as one of the greats, according to Jackie Stewart.
The Scot, who became Britain's first and so far only triple world champion in 1973, told Reuters at the U.S. Grand Prix that he was delighted with Hamilton's success but the mantle of greatness would only come with time.
ADVERTISEMENT
Article continues below this ad
"He's a top-flight racing driver. You can't use the word great while they are still racing in my opinion. It takes years passing to get that status," said the 76-year-old who can comfortably be ranked among the elite.
"I don't think almost anybody had it until they were well past. In the case of (double world champion) Jim Clark, he was great but sadly after he died (in 1968). But he was the leading driver of his time."
Hamilton, whose third title looks a racing certainty, will become the first British driver to take back-to-back titles if he beats Ferrari's Sebastian Vettel by nine points and team mate Nico Rosberg by two on Sunday.
The Briton, winner of nine races this year so far, leads Vettel by 66 points and Rosberg by 73 with four races remaining.
He has already won more races (42) than any British driver and taken more pole positions (49).
Stewart, who retired as world champion after the 1973 U.S. Grand Prix, won 27 grands prix but at a time when there were fewer races on the calendar and the sport suffered far more fatal accidents.
Back then, he was second only to Argentina's late five times champion Juan-Manuel Fangio with Australian Jack Brabham also on three titles.
Michael Schumacher (seven titles), Alain Prost and Sebastian Vettel (four each) have surpassed the Scot since while Niki Lauda and Brazilians Nelson Piquet and Ayrton Senna equalled his three.
All could be considered greats of the sport.
SUCCESSIVE SEASONS
Hamilton comes from a very different era to Stewart and has always said that matching the achievements of the late Senna, who died in 1994, was his great ambition.
Matching his fellow Briton's triple carries no great resonance for the 30-year-old.
"I understand that very well," said the Scot.
"My hero after I retired of the current drivers was Prost, so when he beat my (third) title I was there and I really got a big kick out of it being handed over to him, if you know what I mean.
"Lewis equalling my three world championships, I think it's great. It's good for Britain. I've got no regrets of it at all. I am more than pleased or proud to share that number of world championships with a British driver."
Mercedes have been dominant for the past two seasons, thanks to the supremacy of their V6 turbo hybrid engine, but Hamilton has risen to the challenge more than ever.
Last year, when double points were awarded at the final race, the championship went down to the wire as a battle between the Briton and Rosberg despite Hamilton ending up with 11 wins to the German's five.
This year he can become the first driver to win 10 races or more in successive seasons.
ADVERTISEMENT
Article continues below this ad
"It's a remarkable team. He made a choice of that team and it's delivered for him," said Stewart, who has been critical in the past of Hamilton's judgement and warned he was making a mistake when he left McLaren in 2012.
"It's had such domination it could only be compared with the 20s or 30s when the Mercedes Benz and Auto Unions were racing or the 50s when Mercedes Benz came back to totally dominate with Fangio and Stirling (Moss).
"And then I suppose obviously Michael winning all those championships back to back with Ferrari, which was so dominant because of the superiority of their cars.
ADVERTISEMENT
Article continues below this ad
"It was difficult to judge the greatness of the drivers but we knew Michael was that good."
(Editing by Mark Meadows)