Verstappen Credits Mercedes More than Hamilton for 2018 Triumph
Published 10/31/2018, 2:23 AM EDT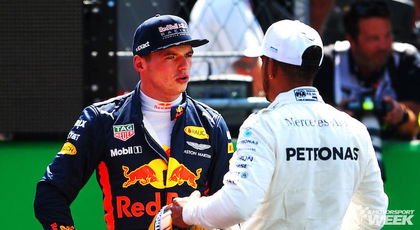 ---
---
2018's title success moves Lewis Hamilton into a different league altogether. Tied with Fangio for the number of driver championships and only behind Michael Schumacher, Hamilton's 2018 triumph has ensure his name gets down in history. The season had its ups and down for him and Mercedes, but the development in the later half of the season pushed Hamilton way past Sebastian Vettel. While the world can't stop their heaps of praises for Lewis, his competitor Max Verstappen had a different opinion.
ADVERTISEMENT
Article continues below this ad
When asked what made Hamilton so good in 2018, the Dutchman was quick to respond: "His car!"
According to Blick newspaper, the 21-year-old added: "Of course he is extremely good.
ADVERTISEMENT
Article continues below this ad
"But Vettel could win with his car, Ricciardo could win with his car, I could win with his car."
No doubt the Mercedes car was strong throughout the year, but so were the Ferraris and many at times the Red Bulls as well. Not only did Mercedes speed up their development mid season, Lewis Hamilton brought his A-game this season, while his championship rival, Sebastian Vettel made mistakes.
Hence merely putting the credit to the car is unfair to his achievement. To say that any top driver could have won in Lewis' car undermines the mammoth achievement of the Briton who had to fight an intense battle to be in a position that he is in right now. Hamilton
himself hit out to people like Nico Rosberg
, who suggested that the championship was gifted to him, clarifying his battle with Vettel in 2018, was the toughest one for him.
ADVERTISEMENT
Article continues below this ad
To put it into perspective, Valtteri Bottas, had similar car, but couldn't manage a single victory. He's merely had 2 pole positions, while Hamilton has had 9 poles and 9 victories to his name in 2018.
ADVERTISEMENT
Article continues below this ad