Has Rohit Sharma Used His Nine Lives?
Published 07/30/2014, 10:00 AM EDT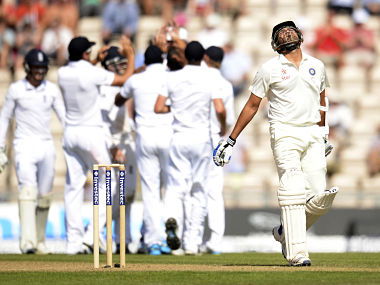 ---
---
It was an Asia Cup between India and Pakistan in Sher-E-Bangla Stadium in Mirpur. A do or die match for both the teams, as the team which lost would have been virtually out of the tournament. India were batting first on a tricky wicket and had lost Shikhar Dhawan and stand-in captain Virat Kohli early and inside 10 overs. Rohit Sharma who was opening the innings was playing like a dream, without any sort of discomfort whatsoever. He was timing the ball perfectly, playing all the shots in the book, the hook, the pull, the expansive drives, and the delicate cuts all were flowing of his blade. After getting a fifty and getting set, it was time for him to consolidate and make a big score. But what does he do? He plays a very bad pull shot and gets out to the debutant Mohammed Talah which made no sense at that stage of the game; moreover a deep square leg and deep fine leg were placed as well. The shot was definitely not on.
ADVERTISEMENT
Article continues below this ad
Another match at the same venue and not long after the above mentioned match, Rohit Sharma did a similar thing. India were chasing 172 in the World T20 semis against the Proteas, Rohit after giving India a flying start needed to kick on and was set, but adding to the frustration of his fans he gifts his wicket to Beuran Hendricks. While Rohit who threw his wicket away while he was playing well, Kohli on the other hand, struggling to get his touch initially played a very sensible and mature knock. Both the knocks spoke volumes about the temperament of the both the batsmen.
Yesterday on a beautiful batting wicket at The Ageas Bowl in Southampton when India finally had a partnership going in the form of Rahane and Rohit, fifteen minutes before Tea Rohit holds out to mid off of the bowling of Moeen Ali in an attempt to go over the top. Anyone who knows about the game of cricket would say that it was needless shot played by him and put the team into further trouble.
ADVERTISEMENT
Article continues below this ad
Yes, players make mistakes. Play the odd bad shot which is needless as well. But with good players it happens rarely. Rohit Sharma should consider himself very fortunate because of the chances he has been given in the team. Not only that, players like Manoj Tiwary, Ajinkya Rahane, Ambati Rayudu etc. warmed the bench when he was given innumerable chances. And all of them are proven performers in Ranji Trophy as well as in IPL.
123, 30, 13 and 9 are the no. of ODI's played by Rohit, Rahane, Rayudu and Manoj Tiwary respectively. Such has been the difference of chances being given to Rohit and what does he have to show for? An average of 35, 22 fifties and 4 hundreds. The difference between no. of fifties and hundreds explains his inability to kick on and throw his wicket away. The average is decent but Tiwary and Rayudu also have an average of 31.62 and 32.62. As far as Rahane is concerned, he was overlooked for Rohit for the West Indies series at home when he played the last test against in Delhi against Australia. 3 overseas test tours later, we know who stands where.
ADVERTISEMENT
Article continues below this ad
The question then arises 'WHY ROHIT?' Everyone feels that Rohit Sharma is a way too talented player to be left out of the side. Probably he'll gain the required temperament when he plays more and more, and may turn out to be a huge asset for Team India. 'FLATTER TO DECEIVE'-A phrase which commentators have often used for him because of his inability to carry on and play a big innings and throwing his wicket away.  That is because he's very 'talented' and probably more than Rahane, Rayudu, Tiwary. Has more shots in his armour. Has a lazy elegance about him. He can play the long innings as well. Plays the drives, pulls, hooks and cuts to perfection.
But, everything said and done, at the end of the day cricket is a game about runs. Gary Ballance, England's no.3 batsman might not be a very pretty batsman but he score runs and is the highest run scorer this series. He's neither elegant nor classy but instead grafts for runs because he has the required temperament.
Talent won't win you the matches for the country, performances will. It is high time that Rohit Sharma justifies the faith of the selectors, and more importantly his captain and start performing. Otherwise, other not so 'talented' players should be given a chance.
ADVERTISEMENT
Article continues below this ad