"He is Disrespectful": Diego Schwartzman Lashes Out on Daniil Medvedev
Published 01/10/2020, 1:11 PM EST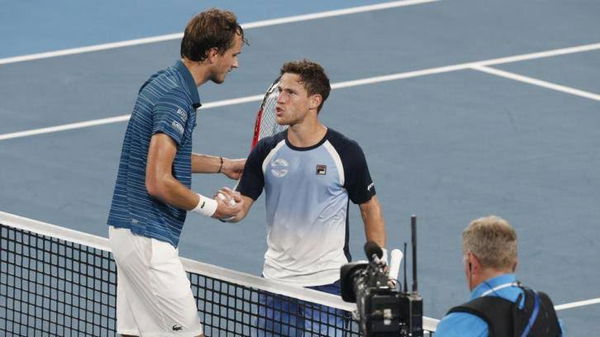 World No.5 Daniil Medvedev let his emotions got the better of him in a major meltdown during his match against Diego Schwartzman in the quarterfinals of the ATP Cup 2020 on Thursday. While Medvedev defended his violent actions on the court, the Argentine called him 'disrespectful'.
Medvedev smashed the umpire's chair twice with his racquet during a heated exchange with the umpire. The fiery Russian then went on to clinch the match 6-4, 4-6, 6-3 to carry his side into the semi-finals where they'll face Djokovic led Serbia.
Also Watch: Daniil Medvedev Gets Point Penalty and Hits Umpire's Chair in Frustration
ADVERTISEMENT
Article continues below this ad
"He does things he doesn't need to do": Diego Schwartzman
Talking about the incident Schwartzman said in an interview with ESPN, "I told Medvedev at the net that he is a great player, but as a person needs to change a lot. He is very disrespectful on the court and does things that he doesn't need to do."
On the other hand, Medvedev revealed that he expected to be fined for the incident, but nothing beyond that. "Nothing happened to the chair, nothing happened to anybody, I didn't break my racquet," he said after the match.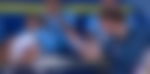 ADVERTISEMENT
Article continues below this ad
He further added: "I would say I got a code violation. I will get a fine. Usually, when you get a code violation you get a fine for a code violation. I don't think there is anything else to do."
Recap of Medvedev's breakdown
Medvedev and Schwartzman unexpectedly involved in a heated exchanged as they walked off the court at the end of the first set. It was unclear what they were saying to each other but chair umpire Lahyani was forced to intervene, separating the heated opponents.
ADVERTISEMENT
Article continues below this ad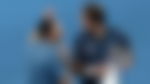 Mohamed Lahyani then gave Medvedev a code violation for unsportsmanlike conduct but not Schwartzman, which triggered the animated Russian. Approaching the chair to question the penalty, Medvedev lashed out at the umpire's chair twice. Subsequently, the US Open 2019 runner-up was penalised with the point penalty.