"He Said That He'd Get Me a Private Jet"- Dereck Chisora Set to Train Povetkin for Dillian Whyte
Published 05/26/2020, 10:54 AM EDT
By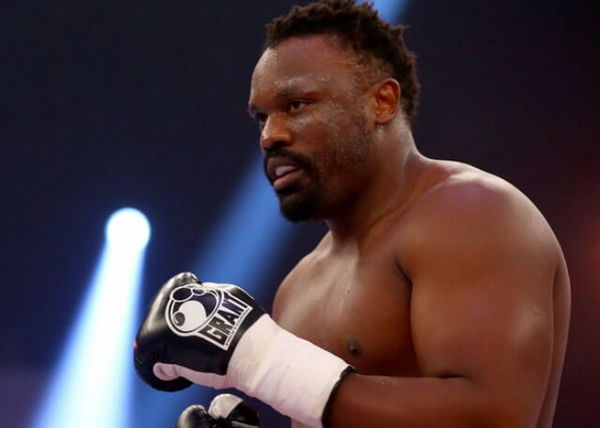 Heavyweight contender Dereck Chisora revealed he will be flying over to Russia to help Alexander Povetkin prepare for his bout against Dillian Whyte. Chisora and Whyte share an intense rivalry. Dereck lost a close decision fight against Whyte back in 2016. However, the rematch ended with Whyte knocking Chisora out in round 11.
ADVERTISEMENT
Article continues below this ad
Povetkin and Whyte were initially set for the end of this month, however, the fight was called off due to the pandemic. The likely date for the bout is either late July or early August.
ADVERTISEMENT
Article continues below this ad
READ : From Plump to Buff: Dive Into Mike Tyson's Unbelievable 10-Year Transformation
"If he needs me, i'll come and help him"-Dereck Chisora
"I've already said to Povetkin that, if he needs me, I'll come and help him. I'll fly to Russia. He said that he'd get me a private jet to come. Povetkin is my boy. I don't care what Whyte has to say. The Russian has already spoken to me and said: 'When it's time I'll send a plane to pick you up and you can help me train'. I'm down for that." Said Chisora to the boxing show on SkySports
ADVERTISEMENT
Article continues below this ad
Whyte mentioned that this was Chisora's pathetic attempt at securing a trilogy bout. Chisora has been eyeing the trilogy bout since his devastating knockout loss to Whyte. Dillian revealed he will face Chisora if he gets past Oleksandr Usyk
"It's Derek being Derek. He's good at talking his way into an ass-whooping. The first time he said it was close. The second time I cleaned his clock. The knockout I gave him was one of the worst you will see in boxing. I ain't got no beef with Derek. I'm cool with the guy but clearly, he has a vendetta. Derek is a stepping stone and I've stepped over him twice already. If he wants to be brutally knocked out again I'll make some easy money! If he beats Oleksandr Usyk and there's a belt on the line, I'd gladly take the belt off of him." Said Whyte to SkySports
Dillian Whyte and Alexander Povetkin will clash for the WBC interim title.
ADVERTISEMENT
Article continues below this ad
What are your thoughts on Chisora's comments? Let us know in the comments below.