"He Was About To Die": Mike Tyson Reveals Riveting Roy Jones Jr Story
Published 03/29/2020, 1:27 PM EDT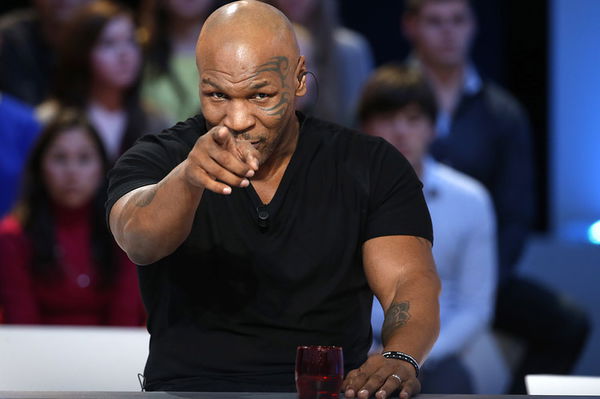 ---
---
Mike Tyson had a few interesting things to say about boxing legend Roy Jones Jr, during his podcast with American rapper Fat Joe. 'Iron' Mike and Jones have a rather interesting past. The fighter famously turned down 33 million dollars to face Tyson, in what would have been a super fight.
ADVERTISEMENT
Article continues below this ad
Roy Jones started as a super-middleweight and went onto capture WBA heavyweight title in 2003. He called an end to his illustrious career in 2018 at the age of 49 with a record of 66 wins and 9 losses.
However, despite his legendary status, Tyson and fat Joe didn't hold back their comments whilst recollecting an incident involving the boxing legend.
"Your boy Roy Jones really pulled up on me in the club and he was going to hook-off on me. Like he literally came looking for me to ask me what's up dissing him in the fight and I was like holy Christ, this man ain't no punk. I had over 100 guys on me Mike" said Fat Joe
ADVERTISEMENT
Article continues below this ad
Ego the  reason for his downfall- Mike Tyson
Mike Tyson responded to the incident by saying "Jones  didn't know he was about to die", before pointing out that his inflated  ego was  the reason for his downfall.
" That's what they don't understand sometimes. That's the real deal, Joe. We get caught up in all these news clippings, that we are invincible and the greatest fighter to have ever lived……"
ADVERTISEMENT
Article continues below this ad
Tyson is no stranger to controversy. Perhaps the most notorious figure in the world of boxing, the highs and lows experienced by 'Iron' Mike are incomparable. From his famous drug-filled parties to various sexual assault allegations and owning tigers as pets, there's nothing Tyson hasn't done.
Despite his dark past, Tyson made amends and has gone onto become an idol and an inspiration for many. His spiritual experiences and life stories struck a chord with fight fans and has helped him build his once tarnished reputation.
What do you think of 'Iron' Mike's comments? Let us know in the comments below
ADVERTISEMENT
Article continues below this ad
READ : "They're Both Beautiful Fighters"- Mike Tyson Reveals His Favourite Boxer Alongside Vasiliy Lomachenko