Will Kyle Shanahan break his Super Bowl Draught with San Francisco 49ers?
Published 05/25/2020, 3:21 PM EDT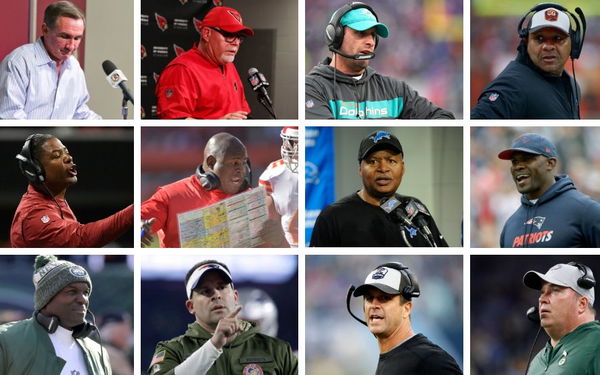 ---
---
When Andy Reid defeated in Kyle Shanahan of San Francisco 49ers in Super Bowl LIV, the NFL was left devoid of a new coach with a Super Bowl. Of the 32 head coaches in NFL, only 9 have won a Super Bowl. The remaining are still seeking the Lombardi Trophy – the ultimate reward. Houston's Bill O'Brien and Minnesota's Mike Zimmer have been longest hunting for a trophy after six seasons each with their respective teams. Ron Rivera is about to begin his 10 journey to his first trophy, however, with a different team this time, the Washington Redskins.
ADVERTISEMENT
Article continues below this ad
Will Brady and Gronkowski bring it home for Arians?
With Tom Brady and Rob Gronkowski moving to the Buccaneers, Bruce Arians seem to have a great chance at victory in the coming years. Despite their veteran-driver roster, Nate Burleson believes that Brady's Michael Jordan effect will result in every player performing better.
ADVERTISEMENT
Article continues below this ad
More Expectations from San Francisco 49ers?
The Buffalo Bills are now younger and hungrier than ever, and the team's 2020 squad is what many believe the best out there. They are constantly improving and might even be moving ahead of the Patriots in AFC East. All of this combined, gives Sean McDermott a brilliant shot at a Lombardi.
ADVERTISEMENT
Article continues below this ad
Despite all this, Maurice Jones-Drew and Brian Baldinger believe that it is Kyle Shanahan who will take the trophy home. He has come incredibly close to Super Bowl victory twice, only for it to be taken away. The San Francisco 49ers have performed very well in the off-season and worked on their weaknesses over time.
However, there is one more man who also seems to be a very popular choice for the winner – Matt LaFleur. It is believed that Aaron Rodgers still has one more ring left in his NFL career and chances are that it will be in Green Bay.
Can Flores truly turn things around?
ADVERTISEMENT
Article continues below this ad
Other than the top contenders, Miami Dolphin's Brain Flores could be on the brink of success. He has done a great job to turn things around for the team. Flores might lead Dolphins its to its glory years like under late Don Shula. There is a lot of expectation from Tua Tagovailoa and with the team wanting to work harder for Flores, a victory does not seem so distant.
With these coaches showing a lot of promise, who do you think will take the trophy? Are San Francisco 49ers the favorite to grab the trophy?