'He's An Alien' – Bucks' Jrue Holiday Describes How Difficult It Is To Defend Steph Curry
Published 04/25/2021, 1:31 AM EDT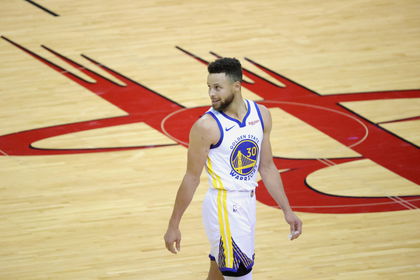 ---
---
The Golden State Warriors might be having a disappointing form this season, but if not for Steph Curry, the Dubs might have seen themselves fall even further down in the Western Conference standings.
Curry is clearly the most important player for the Dubs. The 33-year-old has been absolutely balling this season and is arguably having one of his best seasons since the 2015-16, his unanimous MVP season.
In the 52 games he has played, Steph is averaging an insane 31.2 points, 5.8 assists and 5.6 rebounds per game. Given the incredible season he is having, he has solidified himself as the MVP candidate.
Jrue Holiday reveals how tough it is to defend Steph Curry
While the league is filled with multiple offensive talents, there is a serious dearth of wing defenders. Only a handful of players are known for defending the best players, but Bucks' Jrue Holiday might top everyone.
Even players like Steph Curry, Damian Lillard and Kevin Durant have lauded Holiday as one of the toughest defenders they have played against. Holiday recently made an appearance at JJ Redick's Old Man and the Three podcast. There, the 30-year-old opened up about how tough it is to guard the Curry.
"He's an alien, I don't understand. I fouled him on a half court shot when we played him three weeks ago and he still I'm pretty sure he didn't even look at the rim and he still almost made it hit the back of the rim." 
"They didn't call the foul I'm like what is wrong with you like what do you take can i get some of it please because you're like you're insane dude." He added, "Basketball wise, I'm like he's putting this in the little kids heads like this is okay to try no it's not okay to try only he can do this only he does this nobody else you."
Curry has truly transcended into a different level all-together. In the last 12 games, Steph has averaged a 38.2 points, 6.4 rebounds and 4.6 assists per game. With his impeccable scoring, the Dubs have created a healthy gap from missing out from the play-in tournament.
Given his ability to score the toughest of shots, Curry has cemented his position as a generational talent. His varied arsenal has kept the defenders scratching their heads and makes him a nightmare to defend against. Can Curry win his third MVP trophy this season?
ADVERTISEMENT
Article continues below this ad