Hilarious! Cycling Olympic Gold Medalist Kelsey Mitchell Pulls Brilliant Prank On Airport Security
Published 08/26/2021, 2:07 PM EDT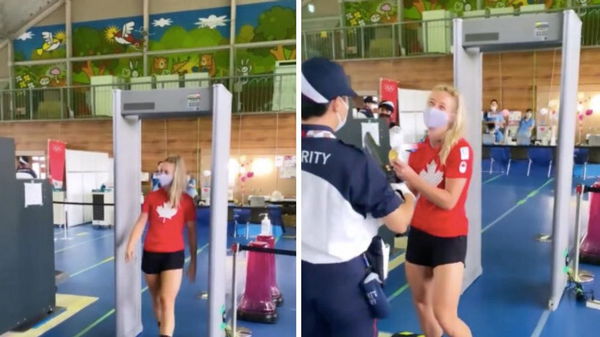 ---
---
After claiming gold at Tokyo Olympics, the 27-year-old Canadian, Kelsey Mitchell, pulls off a prank with the airport security.
ADVERTISEMENT
Article continues below this ad
Kelsey Marie Mitchell is a Canadian professional track cyclist, sailing from Sherwood Park, Alberta. Recently, the cyclist uploaded a video wherein she's pranking security at the airport. Hiding her medal under her t-shirt, the gold medallist walks through the metal detector which starts beeping. After the sounds go off, she takes out her medal and starts laughing. Not only does she claim herself as the comedian but everyone joins in with her laughter. Moreover, also receives an applaud from the security staff. While posting this video on her Instagram, she offered her gratitude towards the people in Japan. In addition to this, she also cheered for her nation, Canada. Unsurprisingly, this video of hers has gone viral all over the internet.
ADVERTISEMENT
Article continues below this ad
Mitchell's past feats
4 years ago, the Canadian did not even own a bicycle. However, she has an innate desire to learn, compete and succeed. Sharing her inspirational story, she said, "You put someone against me and I'll do everything I can not to lose and cross that line first".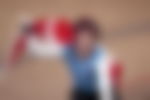 ADVERTISEMENT
Article continues below this ad
In 2019, she won gold and silver by playing at the Pan Am Games. By September 2019, she created a world record, completing 200 metres with a lightning display of expertise, her timing was 10.154 seconds, a speed of 70.9 kilometres an hour.
Kelsey's performance at Tokyo 2020
After beating the Ukrainian, Olena Starikova in the sprint event on the last day of the Summer Games, she created history by showcasing her talent and marking Canada's best performance at the Summer Games since 1984. Indeed, it was a huge victory for her and made her say, "Every time I'm hearing 'gold medalist', 'Olympic champion' I'm like, 'Oh my gosh, it's real – it's not a dream". 
ADVERTISEMENT
Article continues below this ad
Even after claiming the topmost position on the podium, she does not wish to stop. Furthermore, she says, "I can still improve on things. I'm a gold medalist now, but I know I can improve. And I can get better". Having a never-ending thirst to achieve and being humble for one's achievements is all it takes for one to become a champion and she's definitely the epitome of one.
READ ALSO- "We Were Hotter Than You" – Veteran WWE Superstar Shoots on CM Punk After AEW Debut