HISTORIC! Sir Lee Pearson Wins Eighth Equestrian Championship At The Tokyo Paralympics 2020
Published 08/26/2021, 11:41 AM EDT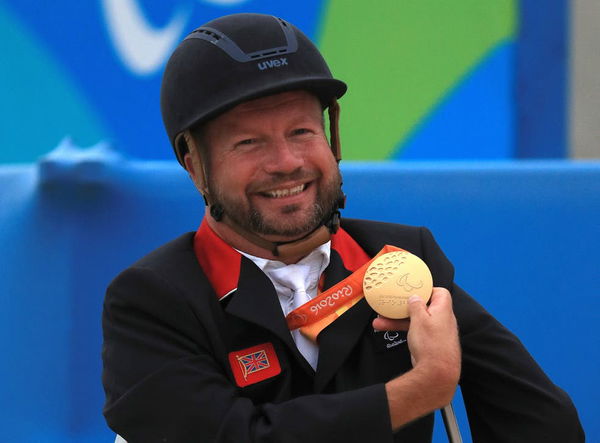 ---
---
Lee Pearson, the Paralympian sweeps his 18th individual title at the Tokyo Paralympics. Winning gold on the very first day of equestrian sports is indeed a huge achievement for the British legend.
ADVERTISEMENT
Article continues below this ad
The 41-year-old British para-athlete developed an interest in the sport while watching matches, at the age of 18. Ever since he started competing in the Paralympics, he's been a superstar. In 2000, he won three titles at the Sydney Paralympics. In 2003, he became the only disabled person to win an award at the British Dressage National Championship. Not only was he successful at competing, but he also created a world record in the equestrian sport. Moreover, the world record set by him has not been broken since the last 3 consecutive Paralympic Games.
WATCH STORY- PHILLY SPECIAL TO 28-3 TRACING THE LAST 5 SUPER BOWL WINNERS
ADVERTISEMENT
Article continues below this ad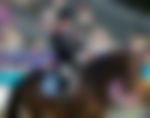 Lee's performance at Tokyo
The para-dressage legend gave a remarkable performance in Tokyo, winning the 12th Paralympic gold medal in his career. Even though the grand total of his medal tally adds up to 18 medals now, it's incredible to see his reaction towards this glorious feat. Post his victory, he said, "I'm very happy; I cried at my second halt at X in the arena. It's been a long journey, and Breezer is a home-bred horse. This is even more special because he's very sensitive to environments, and at Hartpury I did not complete because of something in the environment there. So that added to the emotion". 
Pearson has most certainly has had an incredible journey in his career. However, his competitors have also overcome certain milestones in their sporting careers and thus deserve equal appreciation.
ADVERTISEMENT
Article continues below this ad
Pearson's competition
Lee's home-bred 10-year-old gelding Breezer has always acted as a catalyst in his performances since Sydney Paralympics, 2000. During this competition, he successfully scored 76.26%. Interestingly, this was just 3% ahead of his competitor who finished second. The Aussie, Austria's Pepo Puch, clinched the silver medal, riding Sailor's Blue. He had the same ride in the World Equestrian Games in 2008 as well as in the 2019 European Championship.
The bronze medallist, Britain's Georgia Wilson, rid the 7-year-old Supertramp mare Sakura. Making his first appearance in the Paralympic Games, he achieved an excellent score of 72.76% with a wonderful test.
ADVERTISEMENT
Article continues below this ad
The competition has most certainly been an emotional roller-coaster for most para-athletes. But, this is just the beginning, there is more to come.