Hockey players guard the PCA Stadium, Mohali : Heroes of the nation
Published 03/22/2016, 3:40 PM EDT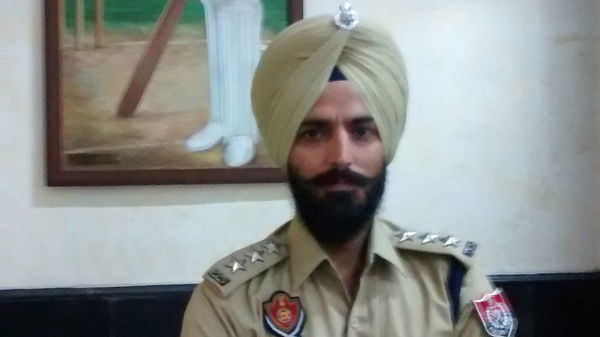 ---
---
Field changed but spirit remained the same.
ADVERTISEMENT
Article continues below this ad
Former India hockey players Gagan Ajit Singh and Rajpal Singh, once far-famed stars in their own sporting arena, are now in-charge of the high security Pakistan vs. New Zealand match at PCA stadium in Mohali in the ongoing T20 World Cup.
Gagan Ajit Singh (35), a former striker, is SP (City) of SAS Nagar (Mohali) and former India hockey team captain, Rajpal Singh is posted as DSP (Traffic) of the city. Both the Arjun awardees work full time with Punjab Police.
ADVERTISEMENT
Article continues below this ad
Uniforms change but serving the nation doesn't.
The CEO of PCA, a decathlete and also a vice-president of Indian Hockey Federation, GS Sandhu once recognized legendary Pargat Singh securing an Ind-Pak ODI match and was stunned to see him there. When he asked Pargat what he was doing there, he said he was on duty.
ADVERTISEMENT
Article continues below this ad
Many Olympians and Arjun awardees like Sunita Rani, a SP rank officer in Punjab Police, Baljit Dhillon, Jugraj Singh, Kamalpreet, Tejbir and few other ex-players have joined forces to continue serving the nation. Sportspersons are a big contribution to Punjab police.
Gagan Singh and Rajpal Singh say they feel so proud serving the nation as police officers.
"It's always an honor to don the uniform. The only change is that earlier we used to serve the nation in blues and now in khakhi. But our duties haven't changed. Our spirit remained constant." Gagan said.
Rajpal is not a part of national team but he still wakes up at 6:30 in the morning to play hockey. IPL-style hockey leagues don't take players above 30 so he's always on duty as a policeman. He doesn't feel unfortunate when nobody recognizes him. Even some of his colleagues who are on duty don't have a clue that this legend has represented India in hockey. So whenever you go to Mohali to watch IPL or any international match, do ask for them and also take autographs. Tweet, take photos, do selfies on snapchat and make sure Mr. Sandhu is not the only one knowing them.
ADVERTISEMENT
Article continues below this ad
These are the true heroes of the nation. Respect them, their spirit and the motivation at their back-end which drives them to serve the nation indefinitely.