Hood: Outlaws And Legends Drops New Gameplay Trailer; DualSense, Multiplayer Heists And More Revealed
Published 04/14/2021, 12:52 PM EDT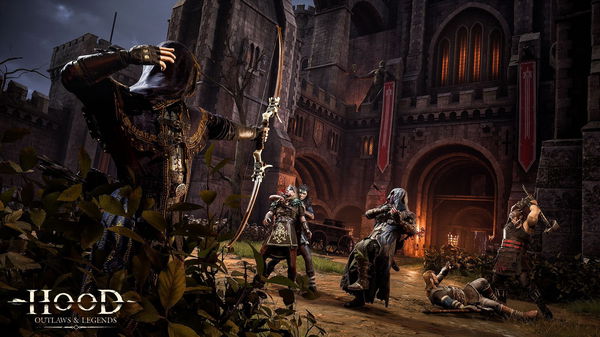 Some trailers tend to blow away our minds and that is exactly what the new gameplay trailer for Hoods: Outlaws and Legends has done.
The multiplayer heist game from Sumo Newcastle is close to release but has a lot of surprises in store for the community. Hood is set in a medieval world. Your objectives are simple; pick your team and infiltrate high grounds to loot and conquer. However, there is a catch lying underneath.
Each game pitches two teams against each other. So, your battle for glory isn't exactly a lonely road. Every new Castle player's visit has a unique environment and a whole bunch of different foes to deal with.
ADVERTISEMENT
Article continues below this ad
DualSense comes into play
PS5's new DualSense controller will bring some immersive experience for Hood: Outlaws and Legends. Everything from a blow to the environment setting will be reflected in the controller.
"The enhanced haptics emulate power surging through the bow. Adaptive triggers convey the string tension as it reaches maximum potency. The feedback of a killing blow delivered to the player through a satisfying pulse. The reverberation of an explosive arrow fired into a crowd of enemies", Lead Game designer Jamie Smith explained.
Read – Hood Outlaws & Legends – A Blend of Assassins Creed and Thieves 
The makers have made good use of DualSense's capabilities. It would be interesting to see how it plays out in-game.
Be combat-ready in Hood: Outlaws and Legends
The rival team can ambush you at any given time. The possession of the treasure chest decides the ultimate winner in the game. And remember, you only win a match once the treasure chest is extracted.
ADVERTISEMENT
Article continues below this ad
Like most multiplayer titles, Hood: Outlaws and Legends offer different character classes to choose from. You have the Ranger, Hunter, and the Brawler. Each class is equipped with special abilities that gain them higher ground during any duel.
By the looks of it, you have multiple choices throughout the game. Playing it smart would enable you and your team to steal the win each time. Although, if your rivals proceed with similar plans, you'll have a bloody battle, to say the least.
ADVERTISEMENT
Article continues below this ad
Hood: Outlaws and Legends is coming to PC, Xbox One, Xbox Series S/X, PS4, and PS5 on May 10, 2021.