"Hope They Don't Have Money for the Next Match": Daniil Medvedev Shouts at Audience During Madrid Open 2021 Loss
Published 05/06/2021, 9:14 AM EDT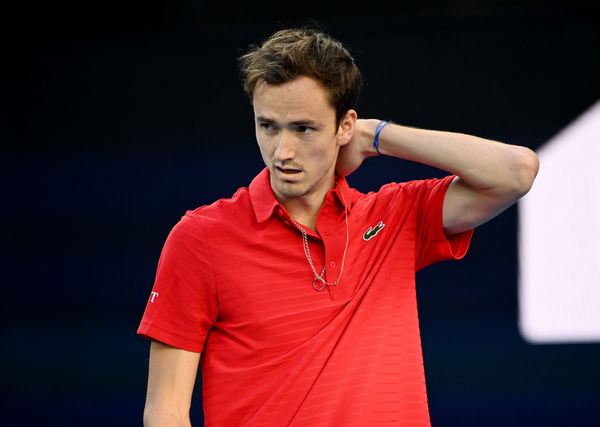 ---
---
World No.3 Daniil Medvedev was ousted from Mutua Madrid Open 2021 by 16th seed Cristian Garin in the third round. The Russian had a late breakdown, which escalated his upset and further delayed his pursuit for the World No.1 spot.
ADVERTISEMENT
Article continues below this ad
Daniil Medvedev suffers nosebleed
Medvedev tried to forget his clay-court blues from the first point. Hence, he was forced into a long service hold by Garin.
ADVERTISEMENT
Article continues below this ad
Like in the second round, the Russian's judgment was off, and his eagerness to hit flat shots earned him a very high ratio of unforced errors. With less precision on speed and placement, Medvedev didn't trouble Garin much.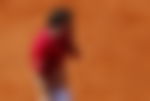 Serving at 1-1, Medvedev was rather slow and quickly lost a break. The set went on to 3-2, after which Medvedev called a medical timeout.
Apparently, the Russian suffered a nosebleed and thus needed immediate medical assistance. After the restart, none of the players troubled each other as they held their service games. Garin served for the first set and converted easily to win 6-4.
Tiebreaker relief for Medvedev
As Medvedev again served first in the second set, his nervy moments continued on as Garin saw a break point. However, the Russian had enough to save it as well as save the game.
One thing in particular about Garin's serve was its pace; the Chilean clocked speeds close to 200kmph, whereas Medvedev maxed out around 170. Hence, to counter this pace, the World No. 3 stood way behind the baseline.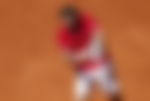 Yet, Medvedev's lackluster returns never bothered Gain's serve. Until 3-3, he had won just two points of Garin's serve. Both the players at this point weren't taking any risks and safely played out their respective service games. The set eased towards a tiebreaker after 12 games of disciplined tennis from Garin and Medvedev.
In the tiebreaker, Garin showed signs of cracking and Medvedev quickly took a 5-1 lead. The 25-year-old didn't hesitate and took the tiebreaker – 7-2 and the set 7-6.
Daniil Medvedev's meltdown
Given Medvedev's strong finish in the second set, it was safe to assume that he would have an upper hand in the tie. However, Garin had scraped off the dreadful tiebreaker of his memory. Although Medvedev saw a break point in Garin's first service game, it was him playing catch up in the rest of the set.
Trailing at 2-1, the Russian struggled to hold off his serve as Garin neutralized his strokes. As Medvedev's negativity and frustration surrounded him, he was warned for unsportsmanlike conduct for shouting at some people in the audience.
ADVERTISEMENT
Article continues below this ad
"I hope they don't have any money for the next match," Medvedev said to the chair umpire.
ADVERTISEMENT
Article continues below this ad
Medvedev's meltdown earned Garin two service breaks in a row. From 1-1, Garin won four games in a row to serve for the match at 5-1. As the Russian saved a match point, the tie was interrupted because of net failure. Upon restart, Garin had to work hard, but he sealed a second match point to complete, 6-4, 6-7, 6-1 upset of Medvedev.