How can Dominic Thiem beat Novak Djokovic at the Australian Open 2020?
Published 01/31/2020, 1:49 PM EST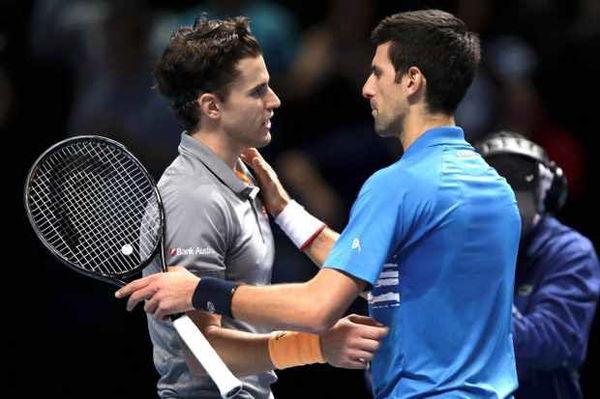 ---
---
The moment Dominic Thiem put away the last forehand volley against Alexander Zverev, he earned the right to have a shot at probably the second biggest challenge in our sport today- Beating Novak Djokovic inside the Rod Laver Arena.
ADVERTISEMENT
Article continues below this ad
Come Sunday, the Austrian will try to stop Djokovic from claiming a historical EIGHTH title in Melbourne. The Serb has a staggering 7-0 record on the second Sundays here. And quite obviously, Thiem will have to play the match of his life to stop world number two!
Djokovic has been clinical. He has lost just one set so far in the tournament and has hardly been tested. Thiem, on the other hand, has been involved in two back-to-back baseline juggernauts against Nadal and Zverev. He is 26, so he should recover for Sunday, hopefully. He'd require every ounce of energy he can muster against arguably the fittest athlete on the planet. 
ADVERTISEMENT
Article continues below this ad
The Rivalry
Novak leads the head-to-head 6-4, having won three of their four meetings on hard courts. Dominic has won 4 of the last 5 clashes, including the most recent one at 2019 ATP Finals. So he definitely has the knowledge of what it takes to beat the Serb. But the Serb that turns up in Melbourne is a tougher one to beat. Novak is probably as tough to beat here, as Rafa is in Paris. Thiem's luck hasn't been the greatest. He faced Rafa in Paris in his first two major slam finals and will face Novak here in his third. He will walk on the court as a heavy underdog.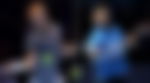 The Stakes
Novak Djokovic is looking for his 8th AO Title and overall 17th major. He will also topple Rafa from the top position in the ATP rankings on Monday if he happens to see off Thiem. The Austrian will look to lift his first Grand Slam title and a win would see him leave Melbourne as the new world number three. But more than that, for Thiem, it's about finally leading the march of the younger ones against the Big-Three. 
"But, well, to really break a barrier, one young player has to win a Slam. Yeah, one of us is going to be in the finals, but it's still a very long way to go … I think we are still a pretty long way from overtaking or from breaking this kind of barrier." These were Thiem's words after his epic QF win against Rafa. And winning three sets on Sunday sure feels like a pretty long way. We'll see. 
The Final
Is it finally time to have a new Grand Slam winner in Men's tennis? A safe answer would be, no.
Novak Djokovic is the overwhelming favorite for Sunday. Having said that, he will face his toughest challenge yet in the form of Thiem. Medvedev and Nadal were expected to be the biggest threats to Novak before the tournament began, but the level of tennis Thiem displayed against Rafa, will serve the case right that Thiem is the most deserving finalist from the other half of the draw. He has the shots, has the strength, has wins under his belt against Novak but does he have the belief? Will he be able to serve a set-out, if he happens to make it to that point? We'll see that too.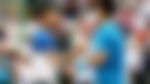 Thiem's Chances
Thiem wasn't at his best against Sascha, probably because people expected him to win? He would savor the underdog tag and go out there with nothing really to lose. He has already outdone expectations anyone had, even his own. The Australian crowd will slightly be in his favor if one were to guess. He has beaten Novak in a major before so the chances of him being mentally underprepared are low. It's the nerves he'll have to handle at crucial points. Something which is extremely tough to do against Novak, who enters into lockdown mode at the biggest of points.

The match will be heavily constructed around the baselines, Thiem will look to hit winners whenever offered anything short at his forehand. His backhand defense has also significantly improved. He would need his BH down-the-line to fire on all cylinders to open up the court against Novak, something which Stan does pretty well. Big serves, hitting 70 percent or more of first serves in and using variations on his second serve will help. His BH slice will also come in handy to neutralize and recover in the long grueling rallies. In all, Thiem cannot afford to be off in any area of his game. He will use the depth of the court to take his time to set in the rallies, but if he persists with that strategy it might come back to bite him. Aggressive play, especially taking the ball early at his backhand side should be employed regularly to rush Novak at the baseline. 
He cannot wait for Novak to make errors, if he does, he'll have to wait a few more months to see if he can really win a slam. 
Novak's Chances…
…are pretty good. If he plays the final even at around 80 percent of his peak powers, he'll get the job done. A slow start, like the one he had against Roger, can make things tricky. And Novak has succumbed to players previously in hard court majors, who have the potential of out hitting him off both flanks. Thiem clearly does. 
ADVERTISEMENT
Article continues below this ad
Prediction
Thiem is ready to be a Grand Slam champion. Any other opponent and you could have bet on him. However, it's tough to look past Djokovic. If Thiem wins the opener, he will significantly improve his odds, if he fails to do that, he might not even take a set. The Austrian needs to strike early and strike big. It will be a long evening for him. By the end of which he'll be exhausted. No matter how it ends up. 
If you were to sleep tonight and then wake up straight on Monday morning, expect to see pictures of Novak Djokovic holding the Norman Brookes Challenge Cup. And if you happen to watch the finale unfold live, which is exactly what you should do, expect Thiem to push Novak to his limits, some jaw-dropping baseline rallies, before eventually falling short in four tight sets.
ADVERTISEMENT
Article continues below this ad
Thiem is ready to be a Grand Slam champion, but Novak Djokovic won't let him break the 'barrier' just yet.