How does an F1 driver kit differ from the rest?
Published 01/02/2020, 10:17 AM EST
By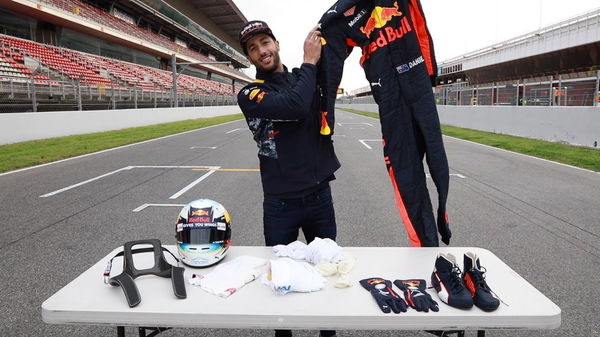 Beyond the race suit and helmet, an F1 driver kit is far more comprehensive. Safety is of utmost importance. Hence the driver's kit has to stand up to rigorous testing. Luckily, gone are the days of the five-layer fireproof suits introduced in 1979. Instead, F1 driver kits are lighter but more durable thanks to the utilization of Nomex.
ADVERTISEMENT
Article continues below this ad
Nomex is an artificial lab-tested fibre that's used to create most of the components of a drivers suit. It has to satisfy stringent criteria.
It's tested against flames of 600° – 800° Celsius
It must resist ignition for 10 seconds
The internal temperature cannot exceed 41° Celsius for 11 seconds
ADVERTISEMENT
Article continues below this ad
Once cleared these lightweight but durable race suits are used. Both drivers and pit crews wear these kits.
F1 Driver Kit components
The following components comprise of drivers overall racing kit before he steps into the car.
1. Inner-wear
The inner-wear consists of their race socks, pants and the shirt. This is the inner layer worn under the race suit. It's a relatively thinner layer of Nomex fibre clothing. The pants and socks are plain without any corporate logos. The shirt, on the other hand, consists of corporate logos printed on it.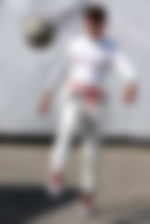 Another piece of inner-wear is the Nomex made balaclava, to add extra fire protection for the head. It's the cloth that drivers wear before putting on their helmet. It covers most of their face.
These innerwear pieces make it very hot and uncomfortable for drivers. However, it's a small price to pay in terms of safety.
2. Racesuit
The race suit is the exterior suit visible to us. It's the drivers first line of defence against fires. It's a multi-layered Nomex suit. Even the suit's zip has to withstand the heat that it could potentially be exposed to. At one point, sponsor logos used to be sewed on with fireproof threads. That practice has been abandoned in favour of printing corporate logos, saving half a kilo of weight.
According to the FIA, each race suit has 15 sessions of washing and dry-cleaning before being tested. The testing criteria is strict. Only suits which pass the tests are finally allowed to be worn by the driver and pit crews.
Despite being fire-resistant, they are light and breathable. It helps sweat escape, as drivers are known to sweat several kilos over the course of a race.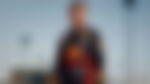 Another safety feature of the race suit is the shoulder straps. They are strong straps on the driver's shoulders, capable of individually supporting the weight of both the driver and his seat. This is done so that the driver can be removed without complicating possible injuries.
3. Gloves and Boots
The gloves and boots of the driver are made to different specifications over the race suit and inner-wear. Despite both being fireproof, they are relatively thinner. This is to enable the driver to improve their performances during the race.
A thin glove allows them to feel the vibrations of the steering wheel easily. It allows them to make minute adjustments to their race approach. The gloves are made out of Nomex and thin leather around the palms, to assist drivers with steering.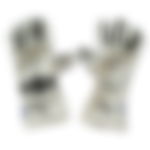 The boots are soft and made of leather. The rubber soles used are thinner, to enable a driver to feel the pedals better. It also provides a good surface and minimises the risk of their foot slipping against the pedals.
The possible other use of the F1 driver boots is utilized by Daniel Ricciardo. The Australian is famous for drinking his podium champagne from his boots after a race.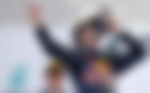 4. Crash Helmet
The Driver's crash helmet is the most visible and customizable part of the kit. The helmet has to be tough and is subject to rigorous tests. The materials used include Carbon Fibre and other fire-proof materials. Despite being layered, it's surprisingly light at 1.2 kilos. Lighter helmets add less G-force whiplash during a race. Simultaneously they are strong to withstand large impacts.
Every helmet is custom fit to each driver. Not only does it add comfort for them but improves overall safety. A custom-fit helmet is harder to slide during an impact. Also, gaps for debris or flames to enter are minimized.
Every helmet is subject to FIA approval. If a helmet is damaged during a race or session, it's discarded for a brand new one. The discarded helmet will likely wind up with collectors.
ADVERTISEMENT
Article continues below this ad
Helmets are the only piece of kit drivers can customize. Hence for symbolic or special races, drivers are known to change their helmet livery. For example, Sebastian Vettel changed his helmet for the 2019 Monaco Grand Prix to honour Niki Lauda.
5. Head and Neck Support (HANS) Device
HANS is a major innovation in safety. It's a U-shaped device sitting on the shoulders made of carbon fibre. It has an elastic band to connect it with the helmet. The primary focus is to restrict neck movement during an impact to prevent skull fractures.
ADVERTISEMENT
Article continues below this ad
Interest in the HANS device renewed following the tragic losses of Roland Ratzenberger and Aryton Senna. Mercedes had conducted evaluation tests of the HANS device between 1996-1998 on behalf of the FIA. Since the 2003 season, it's been a mandatory part of the F1 driver kit.