How Much Does Lewis Hamilton's Dog Make? The Figures Will Blow Your Mind
Published 12/26/2019, 11:38 AM EST
By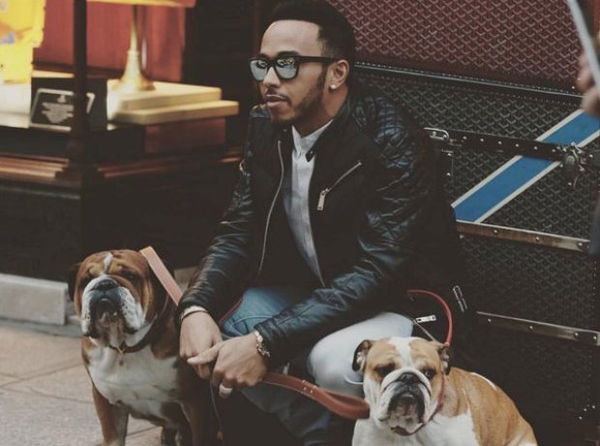 Lewis Hamilton has a special love for his dogs. Although not seen with during the races, the dogs are all what his social media posts and stories are made of in the off season when he is spending time with his family. He has a couple of bull dogs named Roscoe and Coco who he very much adores and admires.
ADVERTISEMENT
Article continues below this ad
While Hamilton fills his pockets owing to expensive endorsements and huge salary figures, his dogs are no less. They are a celebrity on their own. So while how much money does Lewis Hamilton make is a generic question, what you should be asking is how much does Lewis Hamilton's pet dog make?
Lewis Hamilton earlier revealed that his dog Roscoe is part of a modeling agency, and often competes with other dogs to star in the advert agencies' photo shoots.
ADVERTISEMENT
Article continues below this ad
"He gets paid, $700 dollars a day, it's ridiculous and he gets his treat, he loves it," said Lewis Hamilton.
Lewis Hamilton also added, "Roscoe is now part of a modelling agency and he has auditions, he will go up against ten or 15 different bulldogs, they will need a bulldog for a product."
Roscoe has had his sperms preserved, as the breeders, get a shot at replicating his genes when is no more. The dog has been neutered now and Hamilton explained his reasons for it as well.
ADVERTISEMENT
Article continues below this ad
"The reason I had to get him snipped, is because, the poor guy would wake up randomly and he would ejaculate everywhere", said Lewis Hamilton. "He would get scared and wouldn't know what happened, it was so funny, but it was bad as it was everywhere."
Just to give you an idea of how successful Hamilton's dog is check this out: if Roscoe modeled full-time, he'd be raking in over $180,000 a year which is around three times the median US household income in 2016!
So what have you done today?
ADVERTISEMENT
Article continues below this ad