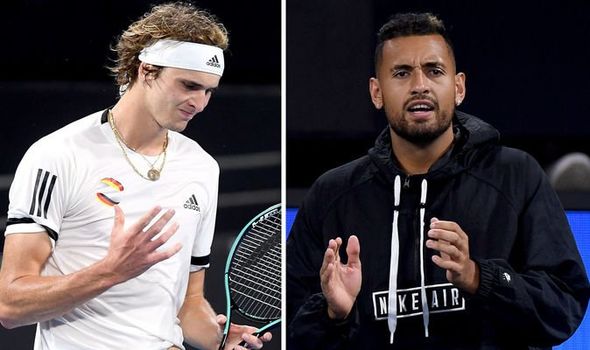 The Adria Tour was an event that ended up causing the coronavirus to spread amongst tennis players. Even though Alexander Zverev played the event, he did not get infected with the virus. Despite this, he said that he was going to self-isolate himself. However, a recent video revealed that he was not doing that and that he was actually partying. This infuriated Nick Kyrgios. Check out what he said.
Read More – WATCH: Alexander Zverev Violates Quarantine Rules After Pledging Self Isolation
Nick Kyrgios on Sascha Zverev. *A lot of things* were said. 😶 pic.twitter.com/zWxl9opKjC

— José Morgado (@josemorgado) June 29, 2020
Nick Kyrgios Blasts Alexander Zverev
On his Instagram Story, Nick Kyrgios said a lot of things about Alexander Zverev. He was very angry about seeing him at a party after the German said that he was going to self-isolate. Nick said,
"I see more and more controversial things in the world but the one that stuck out for me was seeing Sascha Zverev again, again, again. How selfish can you be? I mean, if you have the audacity to put out a tweet that you had your management write on your behalf saying you're going to self-isolate for 14 days and apologizing to the general public for putting their health at risk then have the audacity to stay inside 14 days."
This is something we all expected from the Australian. He was very critical about the lack of social distancing at the Adria Tour where all the players were partying. So, it was just a matter of time before he talked about Zverev partying even though he said that he was going to self-isolate.
The recent COVID-19 cases among tennis players have been talked about by many people. Some players are worried about what these cases might mean for the 2020 season. So far, the ATP has not talked about any changes caused by these cases but they will be expected to increase the safety measures at the events.
Above all, everyone is going to be hoping that the players will recover soon and that we will see them play the ATP Tour when it returns in August. Hopefully, that is exactly what happens.