How to Get Ascendant Shards in Destiny 2?
Published 06/03/2021, 10:35 AM EDT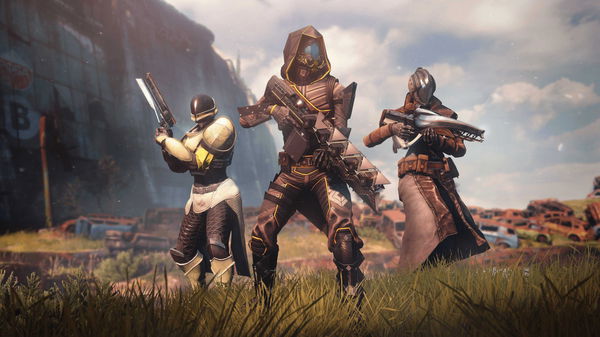 ---
---
In the world of Destiny 2, Ascendant Shards are probably one of the rarest and most important items. These materials have two primary uses for players in the game. They can use them for masterworking their armor to reach the tenth level of energy. Along with that, they also need it to get weapons from the exotic archive which include guns from previous expansions and seasons.
ADVERTISEMENT
Article continues below this ad
As they are quite rare, players have a hard time farming these Ascendant Shards. But there are some interesting ways to find and collect them, and these are some of the best ones to try.
ADVERTISEMENT
Article continues below this ad
How to get Ascendant Shards in Destiny 2?
There are a lot of different ways to collect Ascendant Shards in Destiny 2. One of the more easily accessible ways involves players buying it from Banshee-44. But it's expensive to use this method as players need to shell out 50,000 Glimmer, 100 Etheric Spiral, and 10 Enhancement Prism for just one Ascendant Shard.
They can also find it in the Destiny 2 Seasonal Battle Pass. Many tiers of the pass include these shards as rewards, and these items are another good reason to buy the game's seasonal pass. Players can also receive it by going flawless on Trials of Osiris by having seven consecutive wins in it. It's hard to go flawless in Trials of Osiris but because of the weekly resets, players should definitely play it for amazing weekly rewards like these.

Best Method: Nightfall Strikes
ADVERTISEMENT
Article continues below this ad
The best shot for any player to receive Ascendant Shards consistently in Destiny 2 requires them to play Nightfall Strikes. These strikes have some of the best weekly rewards which include exotic weapons like Hung Jury and many more. But, by playing it on Grandmaster or Master Difficulty, players can also gain Ascendant Shards out of it.
With the Ordeal playlist, the Master difficulty doesn't have a very good drop rate compared to the Grandmaster difficulty. But it's much easier to complete the Master Nightfall Strikes. Other than that, players will need to assemble a good squad for them to have a win them consistently. Grandmaster is much more efficient to try even with its difficulty, as players receive good amounts of Enhancement Prisms which could be used to buy Ascendant Shards from Banshee-44.
It's a tough task to even farm one Ascendant Shard in Destiny 2. They are highly useful for masterworking Armor in the game and it makes sense why Bungie has made it difficult for players to get them. But with some planning and usage of efficient methods such as competing well in Nightfall Strikes and Trials of Osiris, players have some excellent opportunities to gain a lot of them.
ADVERTISEMENT
Article continues below this ad
WATCH THIS STORY- Best Selling PlayStation, Xbox, Nintendo, and PC Games of All Time