WWE Legend and His Wife Have Been Banned From All AEW Shows
Published 06/03/2020, 12:20 PM EDT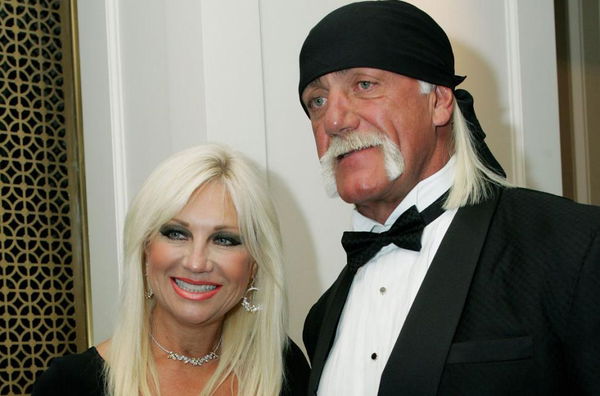 WWE Hall of Famer Hulk Hogan has been banned from attending all AEW events in the future. The decision was taken by Tony Khan, following racially insensitive statements by Linda Hogan, on Twitter.
Khan has been extremely vigilant in the way AEW is perceived. He has come down hard on racism and discrimination within his own organization and industry.
In a Tweet that has since been deleted, Linda Hogan had stated "watching the looting, it's all afro Americans, not sure how robbing and stealing set the record straight but if they want to be heard they need to be civilized."
ADVERTISEMENT
Article continues below this ad
President of All Elite Wrestling, Tony Khan immediately replied.
You've now joined your husband in being banned from all AEW shows. Congratulations.

— Tony Khan (@TonyKhan) June 2, 2020
Hulk Hogan and his ex-wife have been banned from all AEW events
Tony Khan replied to the now-deleted tweet, stating that Linda Hogan and her ex-husband WWE Hall of Famer Hulk Hogan would be banned from attending all AEW shows in the future. 
The decision saw a mixed reaction. So much so that, several fans pointed out that Tony's father supported Trump's 2016 Presidential campaign while accusing him of being racist as well.
Linda Hogan has always been vocal about her support of the Trump administration. In addition to which she has openly expressed her support for the government's actions.
Linda has also been vocal about her opinion against the riots that are taking place throughout the United States, as a result of George Floyd's untimely demise.
everyone wants police to stand down , and this is what you get ?how is robbing and stealing tennis shoes a protest of george floyd

— Linda Hogan (@LindaHogan) May 31, 2020
ADVERTISEMENT
Article continues below this ad
Hulk Hogan was infamously removed from the WWE Hall of Fame for racist statements. The statements were made on a tape that was filmed sometime in the 2000s.
While referring to one of his daughter's friends, Hogan used a racial slur. This led to Mr. America being nuked by fans, in addition to the abrogation of his status as a Hall of Famer.
ADVERTISEMENT
Article continues below this ad
He was, however, re-inducted into the Hall of Fame after exhibiting a prominent change in the right direction. Consequently, this decision was accepted by most of the pro-wrestling world.
Including multiple African-American performers of note, in the industry voiced their opinions in favor of Hogan's re-induction to the hallowed line-up.