Hunter Strickland Gets a Bizarre Injury Ahead of MLB Game Against Pittsburgh
Published 08/21/2019, 8:05 AM EDT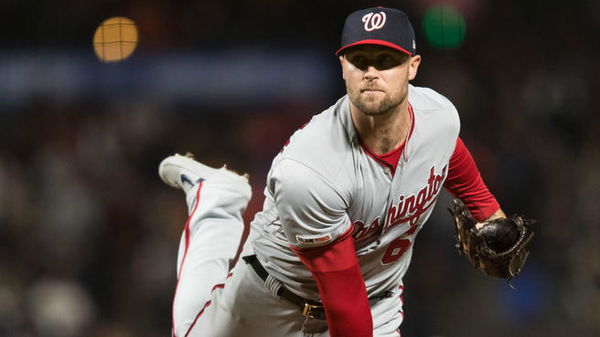 ---
---
The Washington Nationals were in a spot of bother, regarding relief pitcher Hunter Strickland. As it turned out, one of his pregame rituals ended up with messy results, namely a broken nose.
ADVERTISEMENT
Article continues below this ad
According to Nationals manager Dave Martinez to the Washington Post, Strickland was hit by a bar in the weight room. He also revealed that the 30-year old "could have injured the right side of his face". So, the right-hander underwent X-rays at PNC Park ahead of the Nationals' game against the Pittsburgh Pirates.
Hunter Strickland had an accident in the weight room that affected his face, per Martinez. A bar fell on him during exercise. He's off to get X-rays right now.

— Jake Crouse (@JakeCrouseMLB) August 20, 2019
ADVERTISEMENT
Article continues below this ad
Dougherty admitted that the right side of Strickland's face was "pretty red and he had a stripped Band-Aid on his nose."
The good news was that it did not seem to affect his game, as he was spotted practicing. Hunter Strickland warmed up with bullpen catcher Nilson Robledo ahead of the Nationals' game against the Pittsburgh Pirates.
Strickland then confirmed he had suffered a broken nose on social media:
Strickland previously played for the Seattle Mariners along with left-hander Roenis Elias. However, both players were traded to the Washington Nationals at this year's July 31 trade deadline. Since then, Hunter Strickland had only appeared in four games for the Mariners in 2019. This was his only season with the team since playing in San Francisco from 2014 to 2018 and contributing to the 2014 World Series-winning team.
After joining the Nationals, he has recorded a 1-0 record and 1.29 ERA in seven innings pitched across eight games.
I don't think the nats would retaliate oh wait they have Hunter Strickland nvm brawl is eminent.

— WalkerForHOF(sportsman) (@LinkJr42) August 20, 2019
Strickland avoiding major injury is especially positive news for Washington with closer Sean Doolittle on the 10-day injured list due to right knee tendinitis. Elias remains on the IL with a right hamstring strain, which places Strickland at the front of the line as a candidate to fill in at closer. He has 21 career saves, the bulk of which (14) coming last season.
Strickland's last outing was Saturday in Washington's 15-14 loss to Milwaukee in 14 innings when he pitched an inning of no-hit relief in the top of the seventh.
District Update: RP Roenis Elias will throw off the mound during Thursday's off-day as he looks to return from a strained hamstring; Hunter Strickland underwent x-rays today after a bar hit his face while lifting — does not appear too serious; Joe Ross expects to make next start

— The District Dugout (@DistrictDugout) August 20, 2019
The 68-56 Nationals are five games behind the Atlanta Braves in the National League East and leading the NL wild-card race by two games heading into Tuesday night's action.
Unfortunately for the Washington Nationals, they lost to the Pittsburgh Pirates, with a score of 4-1. Stephen Strasburg tossed seven scoreless before handing a 1-0 lead over to the Nationals' bullpen, and things quickly went all pear-shaped in PNC Park. The Nationals squandered an eighth innings lead to hand victory to the Pirates.
For a unit that has had their troubles on the field in 2019, Strickland has been a much-needed addition. He's been close to lights out in seven innings of work, allowing just one run on four hits to go with five strikeouts.