'I am Not Convinced Tyron Woodley is Done Competing'- Chael Sonnen Talks About Tyron Woodley's Future
Published 03/29/2021, 3:52 PM EDT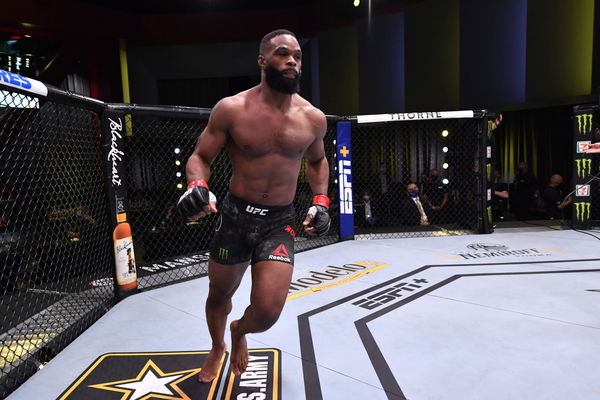 ---
---
Tyron Woodley aced Vicente Luque in the co-main-event at UFC 260, before this fight Woodley had lost 3 of his previous matches.
ADVERTISEMENT
Article continues below this ad
After Woodley lost his match against Covington, many fans and critics called for his retirement. However, Woodley did not do that and fought at UFC 260.
Woodley came into the fight highly motivated and built an all-out attack on Luque from the start. But Woodley got hurt and eventually had to submit in the 1st round itself.
ADVERTISEMENT
Article continues below this ad
What does the future hold for Tyron Woodley?
People criticized Woodley for not being active in his fights, this led to Woodley coming in all guns blazing against Luque.
Many people including UFC President Dana White have called for Woodley's retirement. And after such a loss, fans and critics think Woodley should retire.
However, Woodley's old friend and training partner Chael Sonnen believes Woodley should not and will not retire.
He said, "I'm not convinced that we have seen the last of Tyron Woodley, and I had a text message. Now this is silly, this is speculative, but I'm in the moment."
Chael talked about how he heard something from a 'not-so-poor' source and according to that Woodley might venture into boxing and fight Oscar De La Hoya.
While in conversation, Chael said, "I had a text message from not the world's worst source, telling me that Tyron Woodley is going to be considered for the first boxing opponent against Oscar De La Hoya."
Recently there was also news about how De La Hoya is preparing to fight a UFC fighter, and now it seems like that fighter could be Woodley.
Will 'The Chosen One' fight Oscar De La Hoya
Coming off of 4 losses in a row at this stage of his career seems very tough to come back from. Now, after Woodley has lost against Luque, his future in the UFC seems to be nearing its end.
ADVERTISEMENT
Article continues below this ad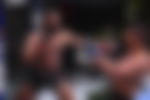 Whether the speculation by Chael is true is a mystery, and it would be really interesting to see what the future holds for the former champion.
A fight with De La Hoya could be just what Woodley needs at this point of his career to boost his stock in the hearts and minds of critics, fans and pundits.
ADVERTISEMENT
Article continues below this ad